North of the City Walls, Sukhothai
North of the city wallsLeave the town center through the Pratu San Luang gate to reach two important monuments and the ceramic kilns.
Related Attractions
Wat Si Chum
The mondhop of the Wat Si Chum, a huge, windowless cuboid construction (22 3 28 3 15 m (72 3 91 349 ft)), stands on a 4.3-m (14-ft) high pedestal, the walls are 3 m (9 ft) thick. There is access to the roof through an entrance in the southern wall. The ceiling of this walkway was once covered with artistically engraved stone plates (one is on display in the Ramkhamhaeng Museum in Sukhothai, the other in the National Museum in Bangkok) which illustrated in sweeping succession scenes from the life of Buddha. The illustrations are of outstanding beauty betraying the influence of Singhalese-Indian painters and having similarities with the temple walls of Polonaruwa on Sri Lanka.In the interior of the mondhop is the colossal statue (14.70 m (48 ft) high) of a seated Buddha, which was formerly gilded. It is probably the Phra Achana mentioned in an inscription by King Ramkhamhaeng in 1292. In front of the mondhop is a bot with an area of 21 3 12 m (69 3 40 ft), its 13 limonite columns covered in stucco work still standing. To the north of the mondhop are the ruins of a small wiharn and a brick building which contains a seated Buddha.
Wat Phra Pai Luang
Surrounded by a moat Wat Phra Pai Luang is extensive and one of the oldest temples. It was probably one of the most important in this region and is thought to date from the end of the 12th or beginning of the 13th c. Of the three laterite prangs decorated with stucco the north one is still standing. On the gable of the false door Buddha and his followers are represented. Beautiful stucco work adorns the steps of the chedi and the base of the dilapidated eastern chedi. The outside wall, the foundations and ruins of four rows of columns still remain from the wiharn. In the mondhop statues were found depicting Buddha in the four basic positions. The Wat Phra Pai Luang was presumably the main wat of the old town at the time of the Khmer before it was moved further south to its present position in the ruined city.
Ceramic Kilns
The remnants of ceramic kilns are interesting; excavations has so far brought to light 49 of them (a model exists in the Ramkhamhaeng Museum). The ceramic and tile production began here around 1300 when King Ramkhamhaeng brought several hundred potters from China, and it lasted until the middle of the 15th c. when wars interrupted production.
Map of Sukhothai Attractions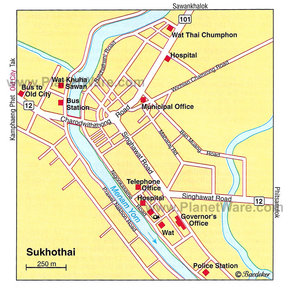 Sukhothai Map
More Sukhothai Attractions
Popular Destinations Nearby