State Gallery, Stuttgart
Staatsgalerie
The State Gallery is one of the finest art collections in the Federal Republic. The section devoted to 20th C. paintings enjoys an international reputation. The original building, or Old Gallery, was designed by Gottlob Georg Barth in Neo-classical U-Bahnstyle and built in 1838-42; originally consisting of three wings set round a forecourt, it was enlarged in 1881-88 by the addition of two wings at the back.
Important Information:
Address:
Konrad-Adenauer-Strasse 30-32, D-70173 Stuttgart, Germany
Opening hours:
Jan 1 to Dec 31:
10am-6pm; Thu: 10am-9pm; Closed: Mon
Always closed on:
Christmas - Christian (Dec 25), Christmas Eve - Christian (Dec 24), Good Friday - Christian
Entrance fee in EUR:
Family €8.00, Adult €5.00, Concession or reduced rate €3.00, Child 14 & under FREE
Useful tips:
Free admission on Wednesdays and Saturdays.
Discount:
Wednesday, Saturday
In the forecourt is an equestrian statue of King Wilhelm 1.Adjoining the Old Gallery to the south is James Stirling's New Gallery, faced with travertine (1977-83), a masterpiece of contemporary architecture. The central feature of the new building is a rotunda, which is enclosed by three wings with roofs designed to admit the maximum of light.Only a selection of outstanding works from this rich collection can be mentioned.Beyond the Old Building, to the right, can be seen the entrance to the 824m/900yd long Wagenburg Tunnel, which carries traffic to the eastern districts of the town.
State Gallery Highlights
European Painting 20th C.
Baselitz, "Eagle"; Baumeister, "Primeval Figures", "Gilgamesh Cycle"; Beckman, "Self-Portrait with Red Shawl", "Peruvian Soldier drinking"; Braque, "Violin"; de Chirico, "Metaphysical Interior with Factory"; Dalí, "The Sublime Moment"; Dix, "Match-Seller"; Dubuffet, "Porte Paysanne"; Duchamp, "Study for a Chocolate-Mill"; Ernst, "Sainte Cécilie"; Grosz, "Funeral"; Hodler, "Return from Marignano"; Kandinsky, "Improvisation 9"; Kiefer, "The World Ash"; Kirchner, "Berlin Street"; Klee, "Red Houses on Hill", "Music Underground"; Klein, "Monochrome Bleu"; Kokoschka, "Woman in Blue"; Léger, "Playing Cards"; Matisse, "Woman at her Toilet"; Mondrian, "Composition in Red and Blue"; Munch, "Four girls"; Nolde, "Dancers"; Picasso, "Artistes", "Violin", "Seated Woman"; Schlemmer, "Plan with Figures", "Railings"; Wols, "Composition".
20th C. Sculpture
Andre, "Steel Bar"; Arp, "Star Navel"; Beuys, "dernier espace"; Calder, "Mobile"; Giacometti, "Standing Woman"; Hanson, "Charwoman"; Kienholz, "The Birthday' I ; Kricke, "Large F VI"; Lehmbruck, "Climbing Youth"; Lipchitz, "Head"; Maillol, "Head of Venus"; Merz, "Double Igloo"; Moore, "Helmeted Head 2"; Schlemmer, "Triadic Ballet"; Segal, "Girl sitting against a Wall"; Serra, "Dead"; Tinguely, "The Electro-ironic Brain"; Picasso, "Bathers"; Rodin, "Iris"; Ruckriem, "Dolomite".
European Painting 19th C.
Burne-Jones, "Perseus Cycle"; Cézanne, "Bathers in Front of Tent"; Corinth, "Self-Portrait"; Corot, "Girl with Red Flower" Courbet, "Madame Maquet"; Delacroix, "Indian Woman attacked by a Tiger"; Feuerbach, "lphigenia"; Friedrich, "Bohemian Landscape"; Gauguin, "Where are you going?"; Liebermann, "Old Men's Home"; Monet, "Fields in Spring"; Renoir, "Madame Choquet".
Graphic Collection
Some 300,000 items: drawings of all periods, printed graphics. The collection is particularly strong in the following fields: the Baroque period in Bologna and Genoa; Giambattista and Domenico Tiepolo; Max Kade Collection of older printed graphics; international graphic art of the 20th C.; French illustrated books; Jugendstil (Art Nouveau) posters.
Outstanding Pieces
Prague Altar, from St Vitus's Chapel, Muhlhausen; Pfullendorf Altar; Zeitblom, "St Florian"; Ratgeb, Herrenberg Altar;Holbein the Elder, "Madonna with Donor"; Cranach the Elder, "Judith".
American Painting since 1945
Newman, "Who's afraid of Red, Yellow and Blue?"; Pollock, "Out of the Web"; Rauschenberg, "Spot"; Reinhardt, "Abstract Painting"; Warhol, "Peach Halves".
Dutch and Flemish Paintings
Memling, "Bathsheba in her Bath"; Hals, "half-Length Portrait of a Man"; Rembrandt, "Paul in Prison"; Rubens, "Old Lady with Child"; Ruisdael, "Egmond aan Zee".
Italian Paintings
Erbach Panels ("Apocalypse", by an unknown Neapolitan master); Canaletto, "View of the Brenta from Dolo"; Carpaccio, "Stoning of St Stephen".
Swabian Neo-classicists
Hetsch, "Mother of the Gracchi"; Schick, "Frau von Cotta".
Map - State Gallery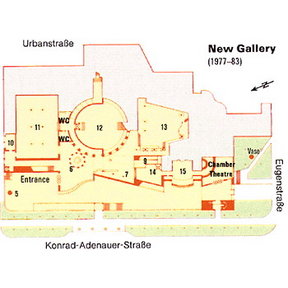 Map - Baden-Württemberg State Gallery
Map of Stuttgart Attractions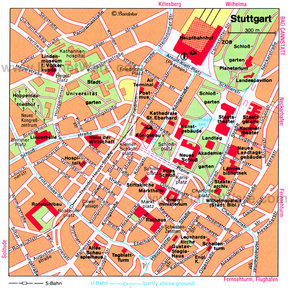 Stuttgart Map
Popular Destinations Nearby