Cathedral of Notre-Dame, Strasbourg
Cathédrale Notre-Dame
The Cathedral of Notre-Dame, built on the foundations of an Early Romanesque church begun in 1015, has long been famed as one of the noblest achievements of Western architecture, which reflects the whole range of styles from Romanesque to Late Gothic (12th-15th C). The west front (1277-1318) was the work of Master Erwin of Steinbach and his successors; the delicately articulated octagon of the north tower (1399-1419) was built by Ulrich von Ensingen of Ulm, the openwork spire by Johannes Hoeltz of Cologne (1420- 1439). In 1793, 235 statues and countless ornaments fell victim to the fanaticism of the French Revolution. There was even a proposal to demolish the spire, since it towered above other buildings and thus offended against the principle of equality; but saner counsels prevailed, and the spire suffered nothing worse than having a lead Jacobin cap set on its tip. The cathedral itself became a "Temple of Reason". In 1878-1879 a Romanesque dome was built over the crossing.
Address:
1 rue Rohan, BP 09, F-67060 Strasbourg, France
Opening hours:
7am-11:45am, 12:40pm-7pm
Useful tips:
Admission for Cathedral platform.
Cathedral of Notre-Dame Highlights
West Front
On the splendid west front of Strasbourg's cathedral, built of red Vosges sandstone, are a large rose window and a profusion of sculptural ornament (most of it replaced or restored in the 19th century).
South Doorway
In the tympanum of the doorway in the south transept of Strasbourg's Cathedral are representations of the Coronation and Death of the Virgin (the latter being original) which rank among the highest achievements of medieval art. On either side are two other masterpieces, the famous allegorical figures of the Church and the Synagogue (by a German sculptor, ca. 1230). Built on to the end of the north transept is the chapel of St-Laurent (1495-1505), with a magnificent Late Gothic facade.
Interior
The interior of Strasbourg Cathedral has beautiful stained glass, including representations of 21 German emperors and kings in the north aisle, a Late Gothic pulpit (1484-1485) and an organ (1714-1716) by Andreas Silbermann (d. in Strasbourg 1734). In the south transept are the "Angels' Pillar" (Pilier des Anges, 1230-1240) and the famous Astronomical Clock (by Tobias Stimmer, 1539-1584; mechanism 1834- 1842). Other notable features are the chapel of Ste-Catherine (1331 and 1563) in the south aisle and, in the north transept, the font (1453) and a sculptured group, "Christ on the Mount of Olives" (15th C.). Entered from the north transept (but not always open) is the chapel of St- Jean-Baptiste (ca. 1240), with the tomb of Bishop Konrad von Lichtenberg (d.1299).From the top of the tower there is a magnificent view of the city, the Rhine plain, the Black Forest and the Vosges.
Map - Cathedral of Notre-Dame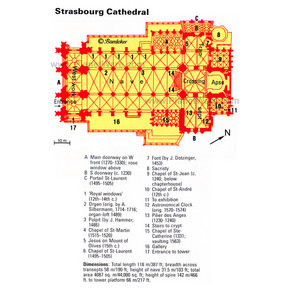 Map - Strasbourg Cathedral
Cathedral of Notre-Dame Pictures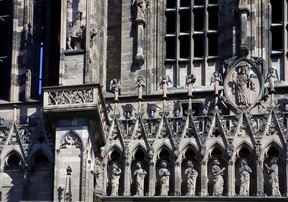 Map of Strasbourg Attractions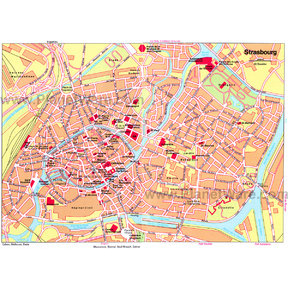 Strasbourg Map
More Strasbourg Attractions
Popular Destinations Nearby