King's Island, Stockholm
Kungsholm
Kungsholm (King's Island) is separated from the rest of Stockholm by a narrow inlet.
Related Attractions
Stockholm Town Hall
On King's Island in Stockholm, on the shores of the Riddarfjärd, is the Town Hall (Stadshuset), a red brick building with green copper roofs which is the great landmark and emblem of Stockholm (by Ragnar Östberg, 1911-23). At the southeast corner of the building is a square tower crowned by an open lantern, on the tip of which (106m/350ft) are the three golden crowns of the Swedish coat of arms. From the platform below the bellcote (lift) there are fine views.On the north front is the "Spectacle of St George", with mechanical figures which perform twice daily, at noon and 6pm, when the bells in the tower play "St George's Tune". At the foot of the east side of the tower, under a pillared canopy, can be seen a recumbent figure (by G. Sandberg) of Birger Jarl, founder of Stockholm.There are conducted tours of the interior of the Town Hall, taking in both offices and reception rooms, including the Blue Hall, an enclosed inner courtyard surrounded by arcading, the Council Chamber and the Golden Chamber, richly decorated with mosaics and wall paintings. In the gardens fronting the Town Hall are sculptures by Carl Eldh (1873-1953).It hosts the Nobel Prize banquet each December.
Council House
To the west of the Stockholm Town Hall, in Hantverkargatan, stands the Baroque Kungsholm Church (17th C.) and northwest of this, in Scheelegatan, the Council House (Rådhuset; by C. Westmann, 1911-15), occupied by the Law Courts.
King's Island Pictures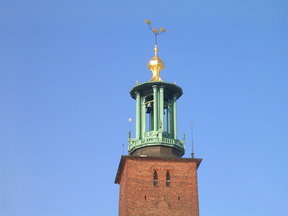 Map of Stockholm Attractions
Stockholm Map
More Stockholm Attractions
Popular Destinations Nearby