Québec to Ste-Anne de Beaupré
Québec to Ste-Anne de Beaupré-Avenue RoyaleHeading north-east from Québec towards Ste-Anne de Beaupré both the newer (and faster) Highway 138 and the older more leisurely Highway 360 follow the direction of North America's first paved road, the Avenue Royale, constructed in the early 18th c.
Related Attractions
Chutes Montmorency
A bare 10 km (6 mi.) north of Québec the Montmorency River plunges over an 84 m (275 ft) high escarpment. Despite being 30 m (98 ft) higher than the Niagara Falls the Chutes Montmorency are not nearly so spectacular.Trails with many fine views and attractive picnic places have been marked out in the vicinity of the Falls.In the 1790s Maison Montmorency (also known as "Kent House") to the left of the Falls was a great favorite of the Duke of Kent (father of the Victoria who later became Queen). From the house there are particularly fine views.
Cote de Beaupre
Beyond Montmorency the road passes through the agricultural "garden" of Québec Province, known as Côte de Beaupré. This is an area of countryside blessed with a particularly favorable local climate and dotted with old mills, farmsteads and unusual cellars half-buried in the valley sides. At some of the attractive old farmhouses and country inns travelers stopping for a welcome rest can savor the local produce (especially the bread, butter and maple syrup). This is a part of Québec also popular with artists; their work, religious and non-religious, is to be seen displayed in a number of places.
Petit-Pré
Where the little Petit-Pré flows into the St Lawrence there is an old mill open to visitors during the tourist season.The Petit-Pré mill dates to the late 17th Century and still maintains some of the original works. It has been restored to working condition, grinding flour as it did in the days of old.
Chateau-Richer, Canada
A small exhibition in the village of Château-Richer is devoted to local agriculture and the local economy.The town is located along the north shore of the Saint Lawrence River.
Albert Gilles Copper Art & Museum
The Albert Gilles Copper Art & Museum in Château-Richer highlights the art of metal "Repoussé" (embossing). The work of Albert Gilles, the museum's founder, is displayed.Among the collection are 50 handwrought silver panels that details the life of Christ.
Quebec to Ste-Anne de Beaupre Pictures
Map of Ste-Anne de Beaupre Attractions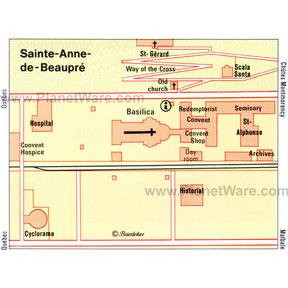 Ste-Anne de Beaupre Map
Popular Destinations Nearby