Gateway Arch, St Louis
In the center of the park is the Gateway Arch, symbol of the city's role as the "Gateway to the West". This parabolic arch of stainless steel, 625 ft high, was erected in 1959-65 to the design of Eero Saarinen, based on an unexecuted project by Adalberto Libera for the entrance to the Esposizione Universale di Roma of 1942. Eight elevators run up to the observation platform on the highest point of the arch. Under the arch are the Visitor Center and the Museum of Westward Expansion, and beyond it the boarding place for the Mississippi excursion boats. Moored in the river are a number of floating restaurants.
Important Information:
Address:
707 North First Street, St Louis, MO 63102-2552, United States
Opening hours:
May 25 to Sep 3:
8am-10pm
Sep 4 to May 24:
9am-6pm
Useful tips:
Best time to visit is before 10am.
Related Attractions
Jefferson National Expansion Memorial Park
The tourist center of St Louis is the Jefferson National Expansion Memorial Park, laid out on a site previously occupied by an old part of the town. It bears the name of President Thomas Jefferson, during whose Presidency the Louisiana Purchase opened up the west to settlement.
Museum of Westward Expansion
The Museum of Westward Expansion brings the days of the Old West alive. Exhibits include rare Indian Peace Medals and weapons of survival, an actual teepee and Sioux war bonnet. Visitors can view one of the first recreational vehicles: a covered wagon.
Old Courthouse
On the right-hand side of Market Street is a massive domed building, the Old Courthouse (1839-64), where an exhibition on local history can be seen.The courthouse was the scene of several important trials, including the suit by Dred Scott for freedom from slavery and Suffragist Virginia Louisa Minor for the right to vote.
Old Cathedral (Basilica of St Louis, King)
South-west of the Gateway Arch is the Old Cathedral, the Catholic Basilica of St Louis of France. Built in 1831-4 on the site of the first church of St Louis (1770) it survived the 1849 fire unscathed. In the basement is a museum on the history of the city.
Map of St Louis Attractions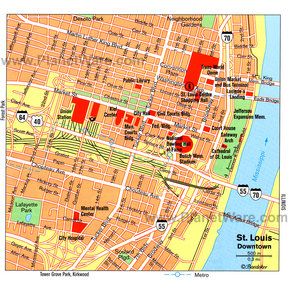 St Louis Map
More St Louis Attractions
Popular Destinations Nearby