Surroundings, Toledo
Numerous villages and castles are to be found beyond the walls of Toledo.
Related Attractions
La Mancha
Illescas
Leave Toledo on N 401 (the Madrid road), which traverses the outer district of Las Covachuelas and comes in 34km/21mi to Illescas (alt. 588m/1,829ft), a fine old town in which the Emperor Charles V met the captured Francis I of France after the battle of Pavia (1525). In the church of the Hospital de la Caridad are five pictures by El Greco ("Annunciation", "Nativity of Christ", "Coronation of the Virgin", "Compassion", "San Ildefonso"). The parish church has a very handsome Mudéjar tower.
Escalona
A few kilometers north of Maqueda is Escalona, with the ruins of a 15th century alcázar.
Ocana
From Esquivias the road continues east to join N VI, which runs south via Aranjuez to Ocaña (alt. 730m/2,395ft), an ancient little town still partly surrounded by the dilapidated remains of its walls. It has a neat 18th century Plaza Mayor, a number of interesting churches, including the Renaissance church of Santa María, San Juan and San Martín, and the Isabelline palace of the Dukes of Frías.
Quintanar de la Orden
From Ocaña, N 301 runs southeast by way of Villatobas and after crossing the Río Cigüela comes to Quintanar de la Orden (alt. 691m/2,267ft), a little town, formerly held by the knightly Order of Santiago, in the corn- and vine-growing district of La Mancha in which Cervantes set the adventures of Don Quixote.
Tembleque
From Quintanar de la Orden, C 402 runs west to Tembleque (which can also be reached from Ocaña on N IV), a typical little La Mancha town. It has an attractive 17th century Plaza Mayor with three tiers of arcaded galleries. Other features of interest are the Baroque Palacio de los Torres and the parish church.
Consuegra
From Tembleque, N IV runs south, passing numbers of the typical local windmills, to Madridejos (alt. 674m/2,211ft), from which C 400 runs 8km/ 5mi west to Consuegra (alt. 704m/2,310ft), once the chief place in a territory held by the Order of St John. Above the town are a ruined castle and hills topped by thirteen windmills, from which there are fine views of La Mancha.
Mora
C 400 turns northwest at Consuegra and skirts the Montes de Consuegra to Mora (alt. 717m/2352ft), a little town with a fine Gothic church and interesting Roman remains.
Orgaz
10km/6mi southwest of Mora on C 402 is Orgaz (alt. 744m/2,441ft), with a massive 14th century castle which is visible long before the town is reached, an old Roman bridge and a typical Plaza Mayor.
Castillo de Guadamur
From Mora, C 401 goes northwest to Toledo. Off the road to the left stands the imposing Castillo de Guadamur, a well preserved 15th century castle, furnished in period style, which can be visited.
Castle Tour
Torrijos
From Toledo, N 403 runs northwest, crosses the Río Guadarrama and comes to Torrijos (alt. 526m/1726ft), a picturesque little town with a Late Gothic church (fine Plateresque doorway) and the Palacio de Altamira.
Barcience
Shortly before Torrijos a minor road branches off on the right to Barcience which has an imposing 15th century Gothic castle.
Maqueda
12km/7.5mi from Torrijos, N 403 crosses N V. Just beyond the junction is the old-world little town of Maqueda (alt. 483m/1,585ft), the main features of interest in which are the church of Santa María (15th-16th C.), with a carved wood retablo of 1554, and a castle with five round towers, originally a Moorish stronghold.
Esquivias
A kilometer or two beyond Illescas a minor road branches off N 401 on the right to Esquivias, with the church of Santa María, which preserves the record of Cervantes's marriage.
Oropesa
From Maqueda, N V runs southwest by way of Talavera de la Reina to Oropesa (alt. 420m/1,378ft), a little town famed for its embroidery which has preserved something of a medieval atmosphere. The magnificent Castillo de los Duques de Frías (14th C.) is now the Parador Nacional Virrey de Toledo.
Surroundings Pictures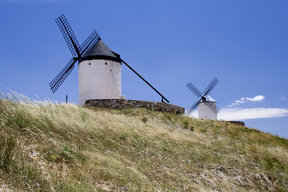 Map of Toledo Attractions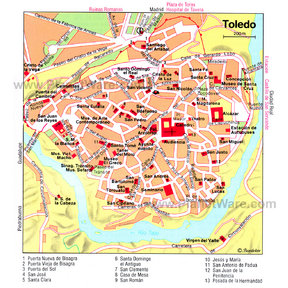 Toledo Map
More Toledo Attractions
Popular Destinations Nearby