Santa Cruz de Tenerife Tourist Attractions
Santa Cruz de Tenerife, chief town of the Spanish province of that name and of the island of Tenerife, lies in a sheltered bay at the foot of the Montañas de Anaga in the northeast of the island. The town owes its economic importance to the steady development of its harbor since the mid 18th century, making it one of Spain's largest ports. Major contributions are also made to the city's economy by an oil refinery, chemical plants, fish processing and cigar factories. Visitors are attracted to Santa Cruz by its excellent shopping facilities, by far the best on the island.
Plaza de España
The flower-decked Plaza de España, near the harbor, is the hub of the city's life. In the center of the square rises the Monumento de los Caídos, commemorating the dead of the Spanish Civil War.
Archeological Museum
On the south side of the Plaza de España is the Palacio Insular, a huge complex housing the island administration, the National Tourist Office and the Archeological Museum, which has the largest collection of material on the history and culture of the ancient Canarians after the Museo Canario in Las Palmas (Gran Canaria).
Municipal Museum of Art
Northwest of the Plaza de España a former Franciscan friary houses the Municipal Museum of Art, with a collection which includes works by Dutch and Italian masters as well as pictures and sculpture by contemporary Canarian artists.
Nuestra Señora de la Concepción
Some 300m/330yd south of the Plaza de España is Santa Cruz de Tenerife's oldest and most important church, the Iglesia de Nuestra Señora de la Concepción. Originally built in 1502, it was much altered in the 17th and 18th centuries after a fire. It contains valuable Baroque works of art.
Mercado de Nuestra Señora de Africa
Farther south from the Plaza de España, reached by way of the Puente Serrador, is the city's principal market, the Mercado de Nuestra Señora de Africa. An arched gateway gives access to the central courtyard with its innumerable stalls selling fruit, vegetables, flowers, meat, fish and even live animals.
Fiestas de Carnaval
The Carnival of Santa Cruz on the island of Tenerife is of exceptional interest to foreign visitors.
Santa Cruz de Tenerife Pictures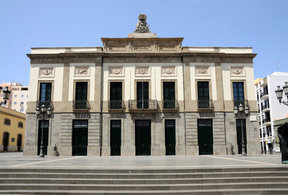 Map of Santa Cruz de Tenerife Attractions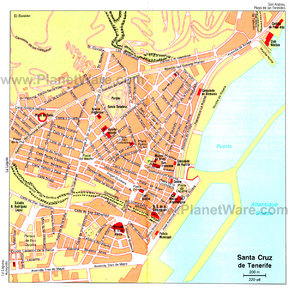 Map - Santa Cruz de Tenerife