Sagunto Tourist Attractions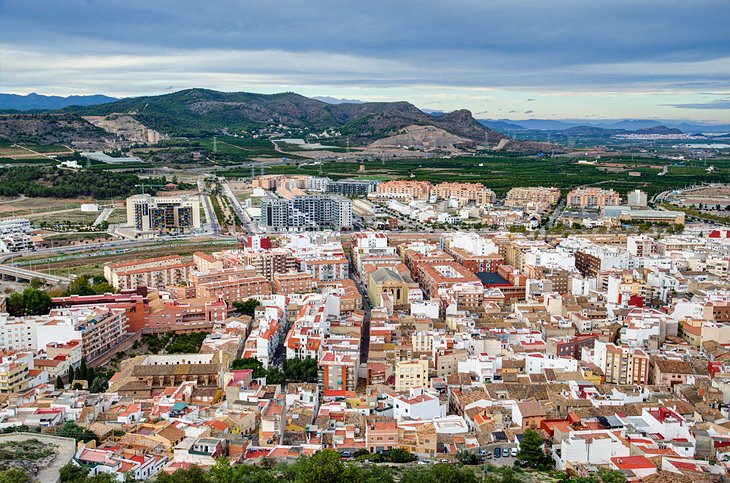 Sagunto
Sagunto lies near the Spanish Mediterranean coast on the right bank of the Río Palancia, 25km/15mi north of Valencia, in the center of a large agricultural region.
Saguntum
Above the town, on a steep-sided crag 170m/558ft high, are the imposing remains of the famous ancient stronghold of Saguntum, founded by the Iberians.
Santa María
In the arcaded Plaza Mayor, the central feature of the town, stands the Gothic parish church of Santa María (begun 1334), which has alabaster windows and a gilded 18th century high altar.
Judería
The old Jewish quarter, the Judería, is better preserved in Sagunto than in most other Spanish towns. It extends around the medieval gate at the entrance to the Jewish quarter in Calle Sang Vella and on the way up to the castle.
Teatro Romano
From the Plaza Mayor, Calle del Teatro Romano runs southeast to the well preserved Roman theater half way up the hill which is crowned by the castle. The auditorium, 50m/165ft in diameter, could accommodate 6,000 spectators, who would have a view over the stage towards the sea.
Castillo
From the Roman theater a road winds its way up the hill, with fine views, to the Castillo de Sagunto, which extends for some 800m/880yd along the summit of the hill. Here there are remains of buildings erected or altered by the Iberians, the Carthaginians, the Romans, the Moors and the French, who besieged the town in 1811. The extensive circuit of walls, from which there are fine views of the town and the coast, dates mostly from the Arab period and from the French occupation.
Archeological Museum
Near the entrance of the Castillo de Sagunto is a small archeological museum, with finds from the Carthaginian and Roman town.
Address: Hort d'ais, 2, E-46500 Sagunto, Spain
Popular Pages