Plaza del Pilar & Surroundings
The Plaza del Pilar is an enormous and impressive public square at the heart of Zaragoza. On the north it is flanked by Basílica de Nuestra Señora del Pilar which gives the square its name, plus the Ayuntamiento (city hall) and the Exchange Palace. On the narrow east end, sits the underground Roman Forum museum, La Seo Cathedral, and the Archbishop's Palace. On the south side are three blocks of commercial building. At the narrow west end sits the cascading fountain Fuente de la Hispanidad and the XVII C Baroque Church of San Juan de Los Panetes with a distinctly leaning tower. This church is closed to the public.
Plaza del Pilar & Surroundings Map
Related Attractions
Exchange
Between the Cathedral La Seo and the Basílica de Nuestra Señora del Pilar, in the Plaza del Pilar, stands the former Lonja, a handsome Renaissance building (1551) with a plain exterior. It contains a single large hall with heraldic decoration and a fine vaulted ceiling.
Town Hall
In the Plaza de Pilar is the Ayuntamiento. The interior is worth seeing; among items of interest is a Roman statue of Augustus.It is a 20th C reconstruction in Renaissance style, since this square was the scene of fighting during the Spanish Civil War.
Palacio Arzobispal
Between the Cathedral and the Ebro in Zaragoza is the 18th century Archbishop's Palace.The building is not open to the public.
Plaza de César Augusto
Near the west end of the Plaza del Pilar in Zaragoza is the little Plaza de César Augusto, in which are the Torreón de la Zuda, a 14th century Mudéjar-style tower, and the 18th century church of San Juan de los Panetes, with a leaning tower. Adjoining the south side of the Torreón are considerable remains of the Roman town walls.
Court of Appeal
South of the Plaza de César Augusto in Zaragoza, at the end of Calle del Coso, is the Audiencia (1537), popularly known as the Casa de los Gigantes after the two huge guardian figures flanking the entrance.
San Pablo
In the western part of the old town of Zaragoza stands the Romanesque/Gothic church of San Pablo (c. 1259), with an interesting octagonal tower in Mudéjar style (14th century). It has a fine interior, with a sumptuous high altar by Damián Forment (1511).
Map of Saragossa Attractions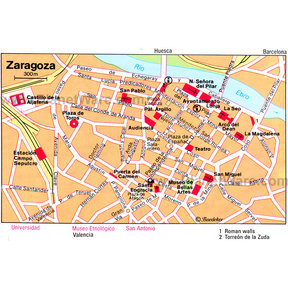 Saragossa Map
More Saragossa Attractions
Popular Destinations Nearby