Surroundings, Granada
Several small towns surrounding Granada contain notable attractions.
Related Attractions
To the Costa del Sol
Pass of the Moor's Sigh
Leave Granada on N 323, which runs south through the suburban district of Armilla and the fertile countryside beyond, with fine views of Granada to the rear, and then climbs to the Puerto del Suspiro del Moro (865m/2838ft), the "Pass of the Moor's Sigh", where the last Moorish king of Granada, Boabdil, is said to have wept as he took his last look at the city he was leaving.
Motril
N 323 continues south from Sospiro del Moro by way of Beznar, where a very beautiful road goes off on the left into the wild hill scenery of the Alpujarras, to Motril, beautifully situated at the foot of the coastal hills, with a fishing and boating harbor. It has two fine churches, one of which, on a hill, occupies the site of a Moorish castle in which Boabdil's mother lived.
Castell de Ferro
The coast road (N 340) leads east from Motril through the fishing village of Calahonda to Castell de Ferro, a village dominated by the tower of a Moorish castle which lives by fishing, vegetable-growing and now increasingly - thanks to its long beach - by tourism.
Almunecar
To the west of Castell de Ferro, N 340 crosses the Río Guadalfeo, passes through Salobreña, a charmingly situated little town of whitewashed houses, and comes to Almuñécar, a picturesque town, originally a Phoenician foundation, which is now a popular seaside resort. Its main features of interest are a ruined Moorish castle, the remains of a Roman aqueduct and its principal church, which was built by Juan de Herrera.
Through the Sierra Harana
Purullena
Leave Granada on N 342, which runs northeast over the Puerto de la Mora (1360m/4462ft), the highest point on the road, to Purullena, a very interesting village of cave dwellings in a region of tufa hills.
Guadix
A few kilometers from Purullena (55km/34mi from Granada) is Guadix (alt. 949m/3,114ft), an episcopal town on the river of the same name, with an old Moorish castle dominating the town. In the Barrio de Santiago many of the inhabitants still live in cave dwellings hewn from the local tufa.
Viznar - Palacio del Cuzco
The Palace of the archbishop del Cuzco (Palacio del Cuzco) is located in Viznar. The grounds are well maintained with plants and old trees.
Map of Granada Attractions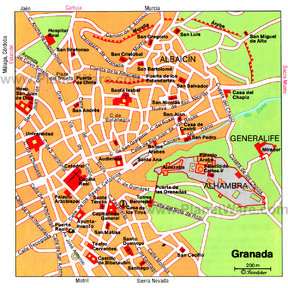 Granada Map
More Granada Attractions
Popular Destinations Nearby