El Burgo de Osma Tourist Attractions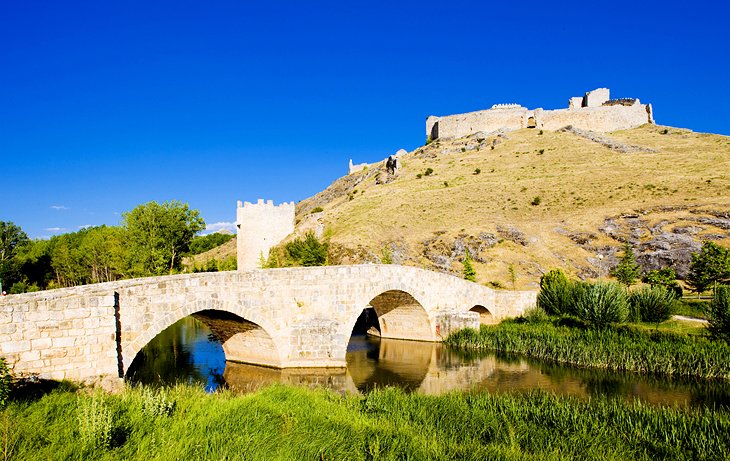 El Burgo de Osma
The old episcopal city of El Burgo de Osma, originally founded by the Visigoths, lies southwest of Soria on the Río Ucero, in the valley of the Duero. Its heyday was in the 16th century.
Cathedral
El Burgo de Osma's finest building is the Gothic Cathedral, begun in the 12th century in Romanesque style and continued from 1232 onwards in Gothic; the 72m/236ft high tower, a notable landmark, was completed in the 18th century. Facing on to the square is the south doorway, with rich 13th century sculptural decoration. The cloister dates from 1512.
Cathedral - Interior
The Capilla Mayor has a beautiful retablo (1552-56) by Juan de Juni and his pupil Picardo. The wrought-iron choir screen (16th C.) was the work of Juan Francés. In the north aisle is the painted limestone tomb of San Pedro de Osma (13th C.). The finest of the chapels is the Baroque Capilla de Palafox, by Juan de Villanueva, who also designed the 18th century New Sacristy. The Old Sacristy has remains of Romanesque wall paintings.
Cathedral Museum
The Cathedral Museum has a large collection of vestments and liturgical utensils; but it is surpassed by the valuable collection of miniatures in the Library. Here the greatest treasure is a copy (1086) of a commentary on the Apocalypse by a monk named Beatus of Liébana.
Universidad de Santa Catalina
The Universidad de Santa Catalina, founded by Bishop Acosta in 1551, has a Plateresque facade.
Palacio Episcopal
In the Plaza Mayor are a number of handsome buildings, including the 17th century Bishop's Palace, with a curious doorway.
Hospital San Agustín
The finest building in the Plaza Mayor in El Burgo de Osma, however, is the Hospital San Agustín (17th century), with two Baroque towers bearing coats of arms.
Jornadas de la Matanza
These weekend festivities center around pig-killing.
Surroundings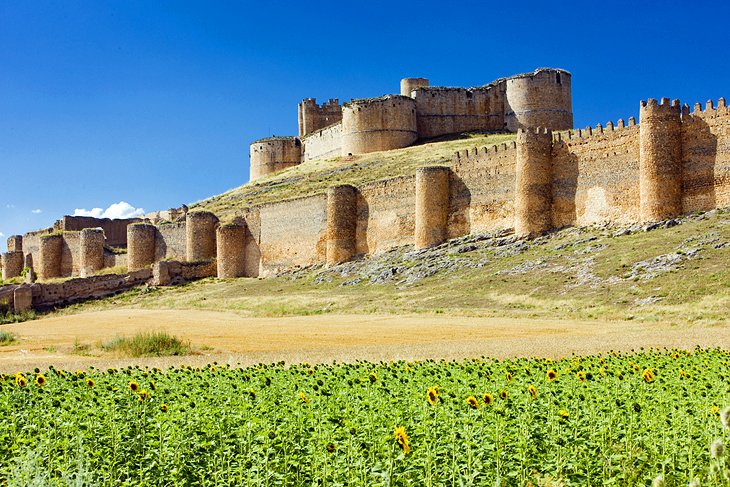 Castle, Berlanga de Duero
Berlanga de Duero, Spain
24km/15mi from El Burgo de Osma is the little town of Berlanga de Duero, still surrounded by its old walls. It has an imposing 15th century castle with a massive keep, surrounded by a double circuit of walls. The beautiful church, La Colegiata (1530), has a magnificent retablo. The Palacio de los Marqueses de Berlanga is in Plateresque style.
Popular Pages