Alba de Tormes Tourist Attractions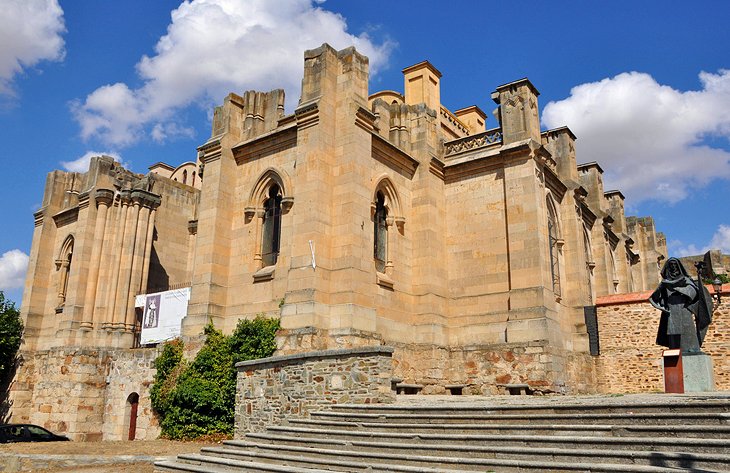 Tomb of Santa Teresa Jorge GonzA¡lez
The old-world little town of Alba de Tormes, 22km/14mi southeast of Salamanca on a hill on the right bank of the Río Tormes, is one of the most important pilgrimage centers in Spain, in which Santa Teresa of Ávila, who died here in 1582, is revered. In the 16th century Alba de Tormes had eighteen churches, of which only four survive. In the Golden Age the town, as the seat of the Dukes of Alba, was an intellectual and political center which in its heyday had a population of more than 22,000; but when the Dukes moved their residence to Piedrahita in the 18th century Alba de Tormes declined.
Castillo de los Duques de Alba
All that remains of the palace of the Dukes of Alba is a massive tower, the Torre de la Armería, which looms darkly over the town.
San Juan
In the Plaza Mayor is the brick-built church of San Juan (12th C.), in Romanesque/Byzantine style, with a Churrigueresque retablo of 1771 and a Romanesque group of the Apostles in the apse.
Tomb of Santa Teresa
The town has many memories of the great mystic Santa Teresa of Ávila. Her tomb is in the richly furnished church of the Carmelite convent of the Anunciación, which she founded in 1570. The convent, which has a handsome Renaissance doorway, lies below the beautiful Plaza Mayor; the way to it, along a narrow lane, is signposted. The saint's remains (her heart and one arm) are preserved in a reliquary above the altar, a gift of the Infanta Isabel Clara Eugenia, daughter of Philip II.
Santa Teresa Museum
In an adjoining building to the convent is a small museum with other relics of the saint and of St John of the Cross.
San Miguel
San Miguel has fine tombs and recumbent figures of the 13th-15th centuries.
Santiago Apóstol
The church of Santiago Apóstol is the town's oldest church.
Museo Arqueológico de San Jerónimo
On the outskirts of the town stands the monastery of San Jerónimo, now housing a small archeological museum (Roman material from the surrounding area).
Popular Pages