Surroundings, Charleston
The area surrounding Charleston provides a glimpse into plantation life through historic homes and national monuments. The society collapsed with the abolition of slavery and changed the social, economic and political landscape in and around Charleston.
Related Attractions
North Charleston - North Charleston and American LaFrance Fire Museum
The North Charleston and American LaFrance Fire Museum houses antique firefighting equipment that belonged to American LaFrance, LLC. The collection includes 18 fire trucks, hands-on displays, a film depicting the history of fire fighting, and the Great Escape exhibit. Displays date back to the early 1800s and continue to present day.
Old Dorchester State Park, Summerville, South Carolina
Old Dorchester State Park south of Summerville is the site of a Colonial village founded in 1697 by a group representing the Congregational Church of Dorchester, Massachusetts. The site includes the 1757 tabby fort, archaeological excavations of the village, the tower of St. George's Parish Church and a kiosk explaining the history of the area.
McClellanville - Hampton Plantation State Historic Site
The Hampton Plantation State Historic Site in McClellanville is a Georgian-styled mansion. It was a working rice plantation in the 18th and 19th C. A historic kitchen building, enormous live oaks, camellia gardens and archeological sites tell the story of the rise and decline of the Lowcountry rice culture.
Fort Sumter National Monument
Boat trips to Fort Sumter depart from Liberty Square, 340 Concord Street in Charleston and from Patriot's Point in Mount Pleasant. From the boat there are fine views of the town and the handsome mansions on the Battery.The bombardment of Fort Sumter, held by Union forces, from Fort Johnson on April 12th 1861 marked the beginning of the Civil War. After 34 hours of artillery bombardment the garrison surrendered, and thereafter Fort Sumter was held by the Confederates until February 1865. After withstanding incessant attacks from 1863 onwards the Confederate forces at last withdrew, leaving the fort a heap of rubble. The history of the fort is documented on the site.
Fort Moultrie National Monument
Fort Moultrie is located across the channel from Fort Sumter. This military post played an important role in the Revolutionary War as the site of one of the first American victories. Fort Moultrie saw action during the Civil War and was a military installation through World War II. The park visitor centerincludes a bookstore and film. Exhibits deal with the evolution of coastaldefense and the role of Sullivan's Island in the international slave trade.
Francis Marion and Sumter National Forests
The Francis Marion and Sumter National Forests cover 629,000 acres of low flatlands, black swamp waters, moss-hung oaks and small lakes, thought to be water-filled meteorite impact depressions.
Savannah River Site
The Savannah River Site near Jackson was constructed during the early 1950s to produce the basic materials used in the fabrication of nuclear weapons, primarily tritium and plutonium-239. The plant opened on November 28, 1950.
Map of Charleston Attractions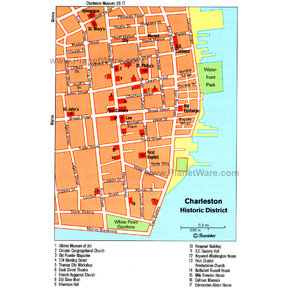 Charleston Map
More Charleston Attractions
Popular Destinations Nearby