Surroundings
Related Attractions
Durban's Northern Surroundings & the Dolphin Coast
There are numerous bathing resorts on the coast north of Durban, sometimes called the Dolphin Coast, but in general this stretch is less developed for tourism than the Sunshine and Hibiscus Coasts to the south of the city.For a round trip through this region, take M 3 (known as Shaka's Way after the great Zulu king), running close to the coast, as far as Stanger, returning to Durban on R 102, farther inland.
Umhlanga Rocks is a popular resort, where shark nets protect the beaches.
Stanger
Near two other quiet resorts, Sheffield Beach and Blythdale Beach is Stanger (pop. 26,000), founded in 1873 on the site of Shaka's last royal kraal, Kwadukuza ("Place of the Missing One"). A monument in a small garden marks the spot where the great Zulu ruler was murdered in 1828. Annually on September 22nd, a day of great significance to the Zulus, they meet here to honor Shaka.Stanger is now a busy commercial and administrative center, mainly inhabited by Indians, for one of South Africa's most important sugar-producing areas.
Tongaat
Tongaat (pop. 50,000) is an important center of the sugar industry.Tongaat was founded in 1849 by British immigrants. The town, named after the Tongaat River, was originally called Victoria. It preserves a few buildings from its early days. Also of interest is the Shree Marriamen, a tiny Hindu temple on the main street. The golf course, fringed by palms and surrounded by green fields of sugarcane, attracts golfers from far and wide.
Salt Rock
Salt Rock is a quiet little resort with a hotel and a camping site. On the coast are piers and towers built for the benefit of anglers. Salt Rock Country Club has a wide range of sports facilities, including a boccia pitch, tennis courts, billiard tables and swimming pools.
Phoenix Park Settlement
South of Verulam a road branches off R 102 and runs west to the Phoenix Park Settlement, where Mahatma Gandhi established a farm during his stay in Natal. His house now contains a small museum on his life and work.
Shaka's Rock
Shaka's Rock has hotels and a sheltered beach, and there is a beautiful hiking trail running parallel to the coast. This is said to have been a favorite spot of the Zulu king Shaka.
Tongaat Beach
Tongaat Beach has a hotel and numbers of holiday apartments. The beaches are protected by shark nets.The nearby Crocodile Creek crocodile farm is open daily to visitors.
Umdloti
The bathing resort of Umdloti, at the mouth of the Mdloti River, has one of the finest beaches in the area. The river takes its name from a wild tobacco plant which grows along its banks.
Verulam
15km/9mi south of Tongaat is Verulam (pop. 30,000). Founded in 1850 by Methodists, it is the oldest town in the province, with a majority of Indians in the population.
Ballitoville
A popular bathing resort is Ballitoville (or Ballito for short), 45km/28mi north of Durban. It has a beautiful beach protected by shark nets.
Durban's Southern Surroundings
Nature reserves and coastal drives through pleasant resort areas are enjoyed south of Durban.
Kenneth Stainbank Nature Reserve
The Kenneth Stainbank Nature Reserve, area 214ha/529ac, contains a variety of indigenous plants, numerous birds, antelopes and rhinos.
Durban's Western Surroundings
The Valley of a Thousand Hills and a few nature reserves lay west of Durban.
Map of Durban Attractions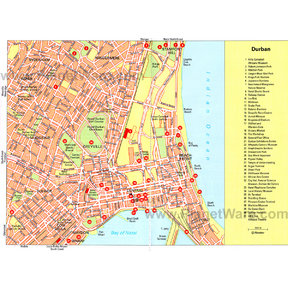 Durban Map
More on PlanetWare