Palácio da Pena, Sintra
Following the road uphill from the Castelo dos Mouros, after about 1km/0.75mi we reach the entrance into the park of the Palácio Nacional da Pena, or Castelo da Pena, perched on its rocky crag (alt. 528m/1,732ft).This palace was also a royal summer residence and was built, as a medieval style castle, for Ferdinand von Coburg-Koháry, Queen Maria II's consort (Fernando II), by Colonel von Eschwege 1840-50, who was instructed to incorporate elements of a 16th C. convent, and otherwise mix various building styles.
Important Information:
Address:
Estrada da Pena, 2710-609 Sintra, Portugal
Opening hours:
Jun 1 to Sep 30:
10am-6pm; Closed: Mon
Oct 1 to May 31:
10am-5pm; Closed: Mon
Always closed on:
New Year's Day (Jan 1), May Day / Labor Day (May 1), Christmas - Christian (Dec 25), Easter - Christian
Entrance fee in EUR:
Adult €3.00, Concession or reduced rate €2.00
Useful tips:
Last admission half hour before closing. Combination tickets for the palace and grounds are available.
Gothic, Manueline, Renaissance, Rococo, Moorish and Far Eastern features are all detectable, and Eschwege also incorporated Portuguese examples, such as modeling the principal tower on the Tower of Belém. Probably the finest views of the Serra de Sintra are to be had from the walk along the top of the walls, the Galeria, and from the dome (external staircase).The rooms of the "fairy tale castle", which likewise lack any stylistic uniformity, are packed full of furniture, china, weapons, etc. The palace has also retained parts of the old 16th C. convent, namely, the two story Manueline cloister, with azulejolined walls, and the chapel, which has a Renaissance altar (1532) by Nicolas Chanterène and 19th C. German stained glass windows.
Related Attractions
Parque da Pena
Ferdinand von Coburg-Koháry was responsible for the extensive Parque da Pena around the castle. (The park is closed at night; cars are admitted for a fee, but there is no charge for admission to the castle parking lot.) The estate, which covers about 200ha/494 acres, contains over 400 species of trees and shrubs, including tree ferns; it is especially beautiful in spring when the camellias, rhododendrons and azaleas are in bloom. Cars can be driven up to the Cruz Alta (540m/1,771ft), a stone cross (1522) on the highest point in the Serra de Sintra, where there is a good view of the Palácio da Pena and of the whole mountain range and plain as far away as Lisbon.
More Palacio da Pena Pictures
Map of Sintra Attractions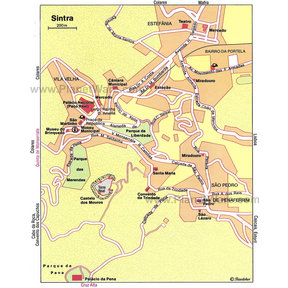 Sintra Map
More Sintra Attractions
Popular Destinations Nearby