Grote Markt, Sint-Truiden
In the center of the town lies the Grote Markt, after Sint-Niklaas, the largest in Belgium.
Related Attractions
Town Hall
In the middle of the Grote Markt stands the Classical 18th C. Stadhuis (town hall). It was built on to the belfry (lower part 12th C.) which had been erected in 1606 which rises above a side gable. The tower, in front of which is a platform dating from 1596, houses a fine carillon of 41 bells.The tower is a UNESCO site.
Onze-Lieve-Vrouwkerk
Near the Town Hall can be found the Onze-Lieve-Vrouwkerk, the choir of which dates from the 14th C. The nave of the church was completed in the 15th C. but the tower was only erected in 1847. The most valuable treasures are a "Last Judgment" by van den Eenheu and the reliquary shrine of St Trudo.
Abbey
North of the Grote Markt are the buildings of the abbey founded in the seventh C. by St Trudo. It was one of the largest monastic complexes in the Netherlands - the church alone was over 100m/328ft long and 24m/79ft wide - but during the French occupation almost everything was destroyed. The building to be seen today dates mainly from the 18th C.; notable are the archway and the Keizersaal on the left side of the courtyard which has fresco decoration.
Abbey Hoevemuseum
One part of the Sint-Truiden Abbey serves as the Hoevemuseum where rural implements and machines can be seen.
Begijnhof
North of the abbey is the Begijnhof (béguinage), founded in 1258, the cottages of which are grouped around a rectangular open space.
Provincial Museum of Religious Art
The church of the begijnhof is now the Provincial Museum of Religious Art.
Faestraets Clock
The Festraetsstudio opposite the begijnhof should be visited. It contains an astronomical clock assembled by Kamiel Festraets (1904-1974) from over 20,000 individual parts. It is 6m/20ft high and the largest of its kind in the world. Also to be seen are other exceptionally fine examples of mechanical apparatus.
Sint-Maartenkerk
Not far west of the market place stands Sint-Maartenkerk, the tower (1550) of which is one of the jewels of early Renaissance architecture. The nave was constructed in the 19th C. in neo-Romanesque style.
Ursulinenklooster
The former Ursuline convent, south of the Grote Markt, now houses an interesting museum of pillow lace, a craft once traditional in Sint-Truiden.
Minderbroederkerk
Opposite the Ursulinenklooster is the Minderbroederkerk built in 1731, the interior of which is impressive because of its size (100m/328ft long, 16m/52.5ft wide and 26m/85ft high).
Sint Pieterskerk
Sint Pieterskerk (12th C.) in the south of the old town is notable for its Romanesque architecture without any ribs.
Brustempoort
The Brustempoort at the end of Luikerstraat is a subterranean fortification dating from the 15th C. which was slighted under Louis XIV.
Map of Sint-Truiden Attractions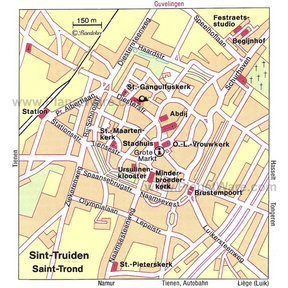 Sint-Truiden Map
More Sint-Truiden Attractions
Popular Destinations Nearby