Parque de María Luisa, Seville
To the south of the Tobacco Factory in Seville, in the Avenida de Isabel la Católica, is the main entrance to the large Parque de María Luisa, laid out by the Infanta María Luisa Fernanda de Borbón.
Parque de Maria Luisa Map
Related Attractions
Plaza de España
The Ibero-American Exhibition of 1929-30 was held in Seville's Parque de María Luisa, and a number of the buildings still remain - the Palacio Centrale, with two 82m/269ft high towers at the corners, in the semicircular Plaza de España and the Pabellón Mudéjar, Pabellón Real and Palacio del Rinacimiento in the Plaza de América.
Museum of Folk Art and Costume
In the Pabellón Mudéjar the Museum of Folk Art and Costume, has a large collection, displayed on two floors, of 19th century costumes, folk arts and crafts, furniture, domestic equipment, etc.The building that houses the collection was originally built for the 1929 Ibero-American Exhibition.
Archeological Museum
The Archeological Museum displays in its 27 rooms prehistoric, Phoenician, Greek and Roman antiquities, including a magnificent statue of Diana, gold jewelry and finds from Itálica.The main floor displays archeological items from sites across the province of Seville.
More Parque de Maria Luisa Pictures
Map of Seville Attractions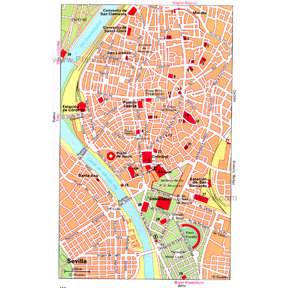 Seville Map
More Seville Attractions
Popular Destinations Nearby