Pioneer Square Historic District, Seattle
The historic core of the city is Pioneer Square, in which stands a 60 ft high totem pole. This was the spot where the first white settlers established themselves in 1852. The old Victorian-style brick buildings (including former department stores and hotels) between the 42-storey Smith Tower (observation platform on 35th floor) in the north and King Street Station to the south were restored some years ago and now cater for tourists, with boutiques, souvenir shops and restaurants. The striking Pioneer Building is the starting point of Bill Speidel's "underground tours", which take visitors round the foundations of buildings destroyed in the 1889 fire.
Pioneer Square Historic District Map
Related Attractions
Klondike Gold Rush Museum
In the Union Trust Annex Building is the very interesting Klondike Gold Rush Museum, which brings to life the wild 1990s of the 19th c.
Bill Speidel's Underground Tour
Bill Speidel's Underground Tour offers visitors a unique chance to see what lies beneath Seattles streets. Below ground are the old streets where the pioneers would have walked, and the old establishments. Bill Speidel's Underground Tours are guided, offering insight into this time period.
Smith Tower
The Smith Tower in Seattle was famous when it was built in 1914, for being one of the tallest structures in the United States. At 522 ft / 159 m the Smith Tower was among the first skyscrapers, and attracted international attention. The observation deck affords great views of the city and Seattle waterfront.
Seattle Metropolitan Police Museum
The Seattle Metropolitan Police Museum displays antique firearms, and other policing memorabilia. The exhibits are also displayed in context with a focus on specific periods of Seattle's history.
Map of Seattle Attractions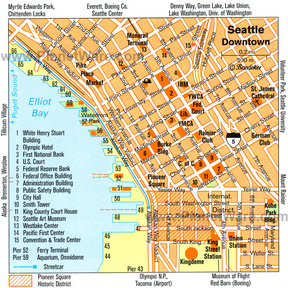 Seattle Map
More Seattle Attractions
Popular Destinations Nearby