Fort William Tourist Attractions
The busy resort of Fort William lies at the south end of Caledonian Canal. It makes an excellent starting point for excursions into the unspoiled Northwest Highlands and also for ascents of Ben Nevis.Local people find employment in the aluminum works, a paper factory, and, increasingly, tourism.Fort William, after which the town was eventually named, was built in 1654 by General Monk, at Inverlochy, for Oliver Cromwell following the 1st Jacobite Rising. When William of Orange came to the throne the village, as it then was, was re-named Maryburgh, in 1690, after his consort Mary. The small town was later re-named Gordonsburgh after the Duke of Gordon its (land) Superior. When Gordon went broke, for want of a better word, the Camerons took over the Superiority and the town was re-named Duncansburgh after Sir Duncan Cameron of Fassfern. In a final change the town's name became Fort William after William Augustus "The Butcher" Duke of Cumberland." There is an interesting cross at the west end of the High Street commemorating these changes.
West Highland Museum
The West Highland Museum is situated opposite the tourist office in Cameron Square. Furniture, paintings and tools used in the production of whisky during the 19th century are on display including "quaichs", special bowls for drinking, and also old bottles, plus weapons, everyday objects and Highland costumes. Also look out for the documents relating to the opening of the West Highland Railway in 1894 and the celebrated conquests of Ben Nevis, notably that by Henry Alexander who in 1911 drove a Ford Model T to the summit.
The 4,406 feet tall Ben Nevis Peak is the most prominent attraction in Fort William.
Carn Mor Dearg
A longer route to the summit of Ben Nevis via Allta a'Mhuillin and the neighboring peak of Carn Mor Dearg provides some breathtaking views. The summit itself is a stony desert, apart from the ruined weather station - abandoned in 1894 - and a hotel that closed in 1915. The flattish area around the summit falls gently to the south, but then very steeply down to Glen Nevis.
Aonach Mor
Aonach Mor (4060ft/1,237m) to the east of Ben Nevis can be reached by a cable car from Torlundy.
Fort William Extravaganza
This annual festival takes place in mid-August and celebrates Scottish traditions. A Haggis-eating competition, Caber tossing, Highland dancing, pipe bands and races are only some of the events offered on the festival's program.
Fort William Pictures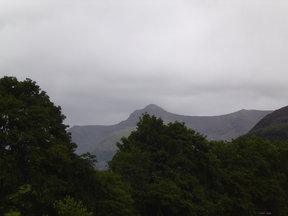 Map of Fort William Attractions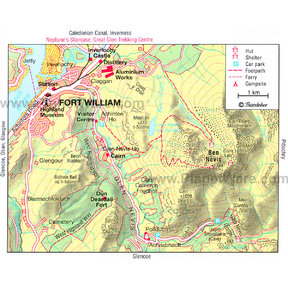 Map - Fort William