Rákóczi Castle, Sárospatak
This imposing castle lies to the south of the town center; the castle grounds with its gardens and fortified walls stretch from the Kádár Kata utca to the bank of the Bodrog river. It is best to cross the Bodrog before visiting the castle (the castle entrance is on the west side) and look at the complex from the opposite side of the river.The oldest part of the castle is the so-called Red Tower (Vöröstorony), a six-storied building with corner turrets. It was extended into a keep at the end of the 15th C by the former owners, the Pálóczi family and around 1540 by Prince Péter Perényi into residential quarters in Renaissance style (currently under renovation). Rooms worth seeing in the Red Tower are the former chapel on the second floor and the so-called "Great Palace" on the floor above with fine Renaissance decoration. Perényi also built the two-storied wing with arcades on the ground floor, which today forms the east wing of the castle (also known as the Perényi wing).Under Prince György Rákóczi I the castle was extended by the addition of four wings around a courtyard. The east wing and the Red Tower are connected by the Lórántffy loggia (1645), named after the lady of the castle, which faces the west entrance to the courtyard, and is reached by a covered staircase. The elegant arcades of the loggia, which are continued into the narrow stairway, together with the richly decorated openings of the Perényi wing constitute a fine example of Renaissance architecture in Hungary. The present day appearance of the castle is the result of alterations by later owners, particularly the Bretzenheim family (early 19th C).
Related Attractions
Rákóczi Museum
The restored rooms of the castle house the so-called Rákóczi Museum. The main focus of the exhibition is the documentation of the national struggle for independence and the history of the Rákóczi dynasty; other exhibits include furniture from the 16th-19th C, works from the glass foundries nearby, some examples of the famous pottery from Sárospatak. The top floor of the east wing contains a particularly fine room of historic significance, the Sub Rosa Room, ornately decorated in stucco (17th C), where the leaders of the anti-Habsburg Wesselényi conspiracy met.
Map of Sarospatak Attractions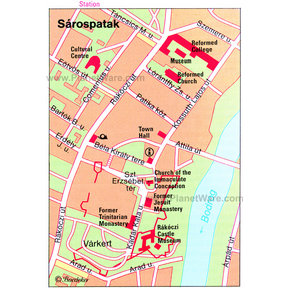 Sarospatak Map
Popular Destinations Nearby