Cathedral - La Seo, Zaragoza
At the east end of the long Plaza del Pilar, part of which is laid out in gardens, is the little Plaza de la Seo, in which stands the Zaragoza Cathedral (La Seo), dedicated to San Salvador. Built between 1119 and 1520 on the site of the town's principal mosque, it has double lateral aisles. The main doorway dates from 1795, the dome over the crossing from 1520 and the slender tower from 1686. The chancel has preserved its beautiful Mudéjar form.
Cathedral - La Seo Highlight
Cathedral - Interior
The Zaragoza Cathedral Choir has a superb grille and Late Gothic stalls. The Trascoro, with the Capilla del Santo Cristo, is a masterpiece of Renaissance architecture. In the Capilla Mayor, behind the high altar, can be seen a large alabaster retablo with three large painted panels (1473-77) by a German artist known as Juan de Suabia. On either side of the Capilla Mayor are the tombs of Aragonese nobles.There are numerous side chapels. The Capilla de San Bernardo (to the left of the southwest doorway) contains the tombs of Archbishop Fernando de Aragón and his mother Ana Gurrea (1552), both by Diego Morlanes. The Capilla de San Martín (to the left of the main entrance), which serves as the parish church, has the Gothic tomb of Archbishop Lope Fernández de Luna (d. 1382). In the Capilla de San Pedro Arbués is the tomb of Pedro Arbués, an inquisitor who was murdered in the Cathedral in 1485 and canonized in 1867.
Diocesan Museum
The Diocesan Museum, in the Sacristy of the Zaragoza Cathedral displays the rich Cathedral treasury, which consists mainly of gold and silver vessels and utensils, including a large silver monstrance (1541) made up of 24,000 parts.The collection contains a vast collection of jewels and cloaks that have been given as offerings to the Virgin Mary over the past 500 years.
Tapestry Museum
On the first floor of the Zaragoza Cathedral is a Tapestry Museum, which possesses 60 valuable Gothic and Renaissance tapestries from Brussels and northern France (only a proportion of them being on show).
Map of Saragossa Attractions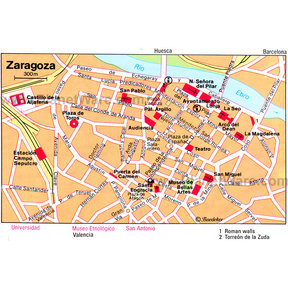 Saragossa Map
More Saragossa Attractions
Popular Destinations Nearby