Southern Districts, São Paulo
Zona Sul
Zona Sul refers to the Southern Districts of São Paulo.
Related Attractions
Lasar Segall Museum
The Lasar Segall Museum, housed in the former home (Rua Afonso Celso) of the artist Lasar Segall, an immigrant from Lithuania who was one of the driving forces of the Modernist movement in Brazil, contains oil paintings, watercolors, drawings and prints by Segall, his painting equipment, a library, an art workshop and a room for film shows.
Independence Park
Independence ParkTo the east of Vila Mariana is the Ipiranga district, traversed by a stream on which the independence of Brazil was proclaimed. An attractive feature of the district is Independence Park (Parque da Independància).
Museu Paulista
Museu PaulistaMuseu Paulista (or Museu do Ipiranga), displays objects, costumes and furniture of the imperial period. Its architectural style, modeled on Italian neo-classicism, is in sharp contrast to the plain and unassuming Casa do Grito, in front of which is the Independence Monument.
Casa do Grito
Casa do Grito is a house built on the spot where Dom Pedro I uttered the "Grito do Ipiranga", the cry "Independence or Death".
Congonhas Airport
AirportTo the south of Vila Mariana and Ipiranga are Congonhas Airport and the Jabaquara and Agua Funda districts. The airport is at present used for regional services and flights to Rio de Janeiro. Access by way of Avenidas Washington Luís, dos Bandeirantes and Rubem Berta, the continuation of 23 de Maio.
Agua Funda
Along Avenida Miguel Stéfano, which runs through the Agua Funda district, are parks and gardens, recreational facilities, lakes and museums.
Botanic Garden
Botanic GardenIn the Botanic Garden are the Museu Botânico Dr João Barbosa Rodrigues, with 1500 exhibits illustrating the development of the plant world, and a new orchid garden.
Simba Safari Park
Simba Safari ParkAlso in Agua Funda is the Simba Safari Park. Visitors can drive through the park in their own cars and observe lions, zebras, bears and other African animals roaming in freedom.
Exhibition Park
Exhibition ParkIn Exhibition Park (Parque das Exposiáões; entrance near Jabaquara Metro station) there are frequent exhibitions and shows (e.g. of small animals).
Zoo
ZooThe Zoo, with some 3200 animals, is the largest in Brazil.
Jardins
JardinsThe name Jardins ("Gardens") covers a number of districts in São Paulo's Zona Sul (Cerqueira César, Jardim Europa, Jardim América, Jardim Paulistano, Itaim, etc.) which are well provided with high-class restaurants, hotels and exclusive shops. In addition they have now become the main center of the city's night life. These districts lie south-west of Avenida Paulista, which runs through Cerqueira César, west of Ibirapuera Park, south of the Pinheiros district and east of the Rio Pinheiros; but slowly and surely the elegant shops and houses are reaching out beyond these limits. There are various roads leading to the Jardins, including Rua Augusta, one of the city's most celebrated streets, and Rua Oscar Freire, a shopping street for luxury articles.
Museum of Image and Sound
Museum of Image and SoundAmong cultural institutions in the Jardins are MASP (Cerqueira César), and the Museum of the Image and Sound (Museu da Imagem e do Som, MIS for short). MIS, one of the most active museums in São Paulo, has valuable material on the history of film-making.
Palace of the Arts
Paço das ArtesThe Paço das Artes (Palace of the Arts) is on Avenida Europa (Jardim Europa).
Cidade Jardim
Cidade JardimTo the south of the Cidade Universitária, separated from Jardim Europa by the Rio Pinheiros, is the district of Cidade Jardim (Garden City), in which are the Jockey Club of São Paulo and the Museu do Turfe (Horse-Racing Museum; Avenida Lineu de Paula Machado). The Jockey Club, whose stadium can accommodate up to 12,000 spectators, has a restaurant with a fine view of the racecourse, on which there are races on five days a week.
Santo Amaro
Santo AmaroOn the right bank of the Rio Pinheiros and Rio Grande is the large Santo Amaro district, in which many incomers from north-eastern Brazil live.
Waves Aquatic Park
Parque AquáticoOn the banks of the Rio Pinheiros, beside the João Dias Bridge, is the aquatic park called The Waves, which can accommodate 6000 people in summer and 5000 in winter. It offers a wide range of facilities - warm pools with artificial waves, an artificial river, water-chutes, saunas, cascades, a solarium.
Mercado de Santo Amaro
On Avenida João Dias is the Mercado de Santo Amaro, a market hall of 1897 which is now used for art workshops, exhibitions and concerts.
Interlagos
South-east of Santo Amaro is the district of Interlagos.
Lake Billings
Lake BillingsLake Billings, formed by a dam on the Rio Grande, extends over several districts of São Paulo (Diadema, São Bernardo, etc.). This huge artiificial lake is crossed by Rodovias Anchieta and Imigrantes on their way to Santos, and there are three free ferry services across the lake. Round its shores are many restaurants and water sport clubs, and bathers and anglers are well catered for.
Autódromo
The Autódromo, on which international Formula I races are held, is immediately below the Rio Grande Canal which links Lakes Guarapiranga and Billings. Access by way of Avenida Interlagos.
Southern Districts Pictures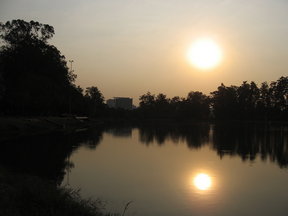 Map of Sao Paulo (City) Attractions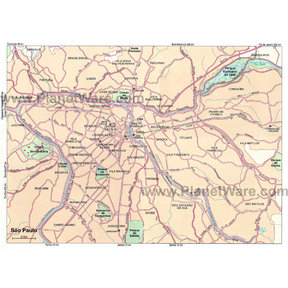 Sao Paulo (City) Map
More Sao Paulo (City) Attractions
Popular Destinations Nearby