Ibirapuera Park, São Paulo
Ibirapuera Park was laid out by Burle Marx, with buildings designed by Oscar Niemeyer. With an area of 1.8 million sq.m (2.2 million sq.yds), the park is a leisure paradise for the people of São Paulo, with a lake, fountains, children's playgrounds, keep-fit trails, a roller-skating rink and an open-air theatre for concerts and other musical events; but with its numerous monuments, museums and administrative buildings it is also of great architectural and cultural interest.The park is on Avenida Pedro Alvares Cabral, which can be reached by way of Avenidas Manuel da Nóbrega, Brasil, 23 de Maio, Ibirapuera and Brigadeiro Luís Antônio and a number of other streets.
Related Attractions
Museum of Contemporary Art
The Museum of Contemporary Art (Museu de Arte Contemporânea), in the Bienal Pavilion, contains over 5000 exhibits representing a wide range of art schools, from Picasso, Modigliani and Léger to Tarsila do Amaral, Portinari and Di Cavalcanti, to mention only three of the leading Brazilian painters.
Museum of Aeronautics and Folk Art
Gate 2 of the Ibirapuera Park leads to the Museum of Aeronautics and Folk Art (Museu da Aeronáutica e do Folclore), on the ground floor of which are displayed aircraft models and flying equipment; the other floors are devoted to folk art and traditions, with almost 20,000 exhibits from all over Brazil.
Obelisk to Heroes of 1932
The obelisk commemorating those who died in 1932 in the struggle for a new constitution is a striking landmark in Ibirapuera Park. At its base is the Mausoleum of the Constitutionalist Soldier, who died defending the Constitution.
Garden for the Blind
The Garden for the Blind (Jardim dos Cegos), has plants selected for their scent and labels in braille.
Japanese Pavilion
Of interest in the park is the Japanese Pavilion (Pavilhão Japonês), near the lake.
Monument to Pedro Alvares Cabral
Monument to Pedro Alvares CabralOpposite the Palácio 9 de Julho (Parliament Building), is a monument to Pedro Alvares Cabral.
Planetarium
The Planetarium (renovated in 1991) has seating for 375 spectators; it also runs courses and conferences.
Museum of Modern Art
The Museum of Modern Art is in the Grande Marquise do Ibirapuera.
Map of Sao Paulo (City) Attractions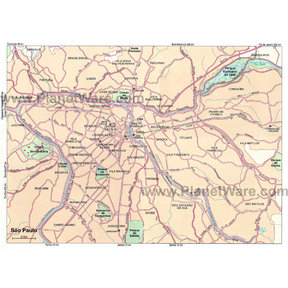 Sao Paulo (City) Map
More Sao Paulo (City) Attractions
Popular Destinations Nearby