Firá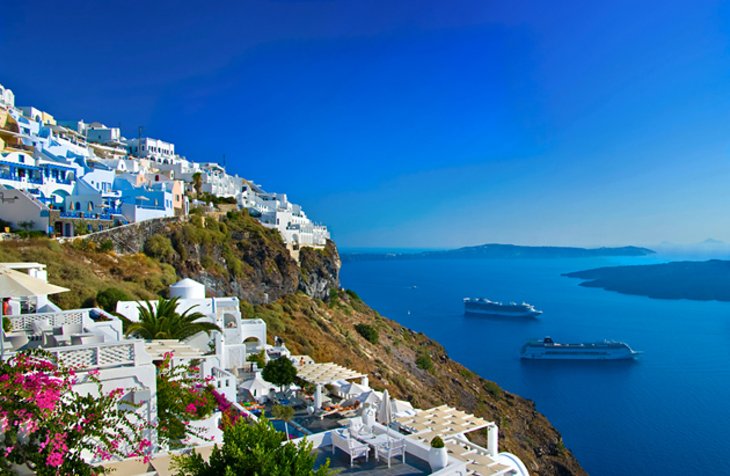 Fira
From the landing place at Santorini in the little port of Skala, where passengers are landed in small boats, the island's chief town Firá (or Thíra) is reached either by walking or riding (by mule or donkey) up the steep and winding stepped path (587 steps) or by taking the new cableway. Large passenger ships now regularly put in at the new port of Athiniós, to the south, from which there is a road (17km/10.5mi) to Firá.With its whitewashed houses, many of them built into the rim of the crater, its winding lanes and little squares, which continually open up new views, and the turquoise-blue domes of its churches and chapels, Firá is a charming little town. With the development of the tourist trade numbers of new shops of all kinds have been established, including several jewelers.
Santorini Archeological Museum (Archaeological Museum of Thera)
The Archeological Museum at the north end of the town of Firá, on the island of Santoríni, displays material of the Cycladic and Minoan periods (before the eruption of the volcano) and also later material of Dorian, Hellenistic and Roman date.A new museum to house the finds from Akrotíri is under construction beside the modern Mitrópolis church (1956).
Surroundings
Profitis Ilias Mountain
From Firá, on the island of Santorin, a road runs south by way of the village of Pyrgos (6km/4mi) to the summit of Mt Profítis Ilías (584m/1916ft), the highest point on the island, from which there are far-ranging views.From Mt Profítis Ilías, a road descends eastward to the Selláda (a saddle between two hills), on either side of which are the necropolises of ancient Thera. From here a road on the left runs down to Kamári on the east coast, on the site of ancient Oia, and a road on the right leads south to Períssa. Straight ahead the road winds its way up to Mt Mésa Vounó, passing the church of Áyios Stéfanos, built on the site of a fifth century basilica and incorporating ancient masonry, continuing to the Evangelismós chapel (alt. 297m/974ft), adjoining which is a heroon of the second century B.C.
Profitis Ilias Monastery
The principal church has a richly carved iconostasis and a Cretan "crown of St Elijah" (15th C.). In the museum can be seen the mitre and crozier of Patriarch Gregory V, who was hanged in Constantinople by the Turks in 1821. Also of interest are the library, the monastic archives and the kitchen. The monastery ran one of the many "secret schools" which operated during the Turkish period.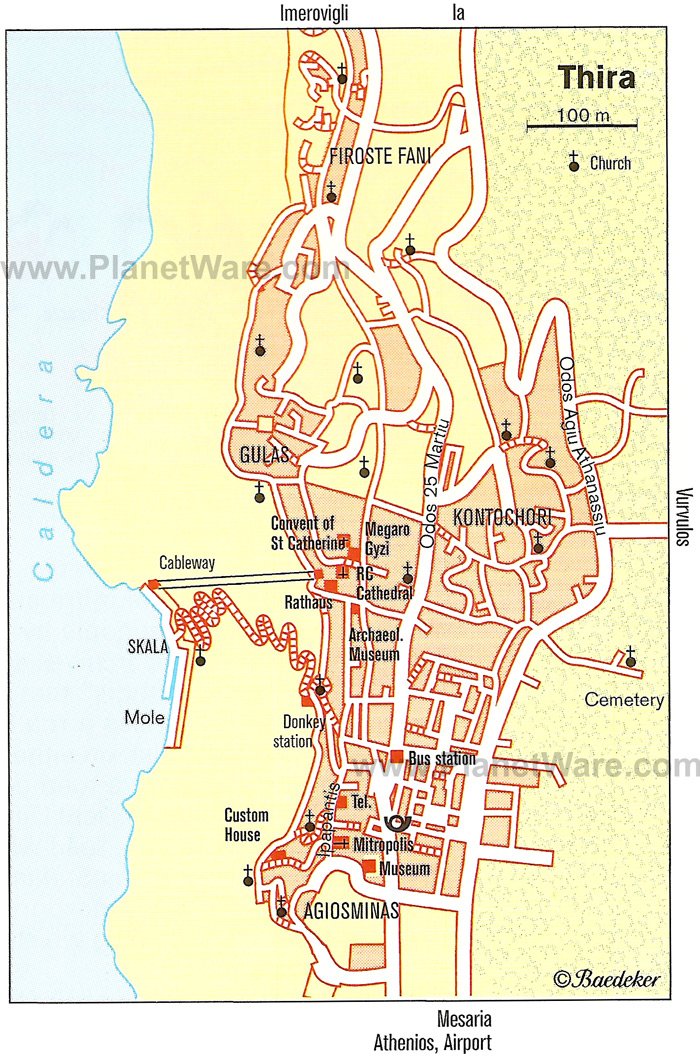 Thira (Fira) Map
Want to use this map on your web site?
Copy and Paste the code below:
Popular Pages