Canyon Road, Santa Fe
Along picturesque Canyon Road, an old trade route leading to Pecos, and the equally picturesque Camino del Monte Sol which cuts across it, are numerous artists' studios and craftsmen's workshops, some of which can be visited. The main attractions for visitors to Canyon Road are the numerous art galleries that line the street. They are everywhere, selling all kinds of art, from sculptures and paintings to jewelry and pottery, most of it with the typical southwestern flair. The quality of the art to be found here varies greatly, as do the prices.It is a lovely area, with adobe buildings and interesting pieces of art out in front of many of the shops on the street side. When you are done strolling around, there are also plenty of restaurants and places to relax.
Related Attractions
Randall Davey Audubon Center
The 135-acre Randall Davey Audubon Center, on Upper Canyon Road in Santa Fe, has birdwatching tours and nature walks. It is a peaceful nature setting, with a little history to it as well. Set in the Santa Fe River Watershed and surrounded by forest, the Center sees approximately 130 different species of birds. Visitors can wander the trails on their own or see about a guided walking tour to learn about the environment and its inhabitants.The complex, which maintains several buildings, is home to the historical Randall Davey House. This unique building was originally a sawmill, which Davey turned into his home and art studio. He died in 1964 and later his family donated the property to the National Audubon Society for use as a sanctuary and cultural center. Visitors can tour the house, which is today a museum, and see his artworks, the studio, and furnishings.
Cristo Rey Church
Along Canyon Road is the church of Cristo Rey, the largest adobe church in Santa Fe.
Map of Santa Fe Attractions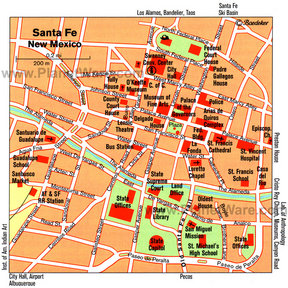 Santa Fe Map
More Santa Fe Attractions
Popular Destinations Nearby