Río Piedras, San Juan
Río Piedras is the academic enclave of San Juan. Located here is the University of Puerto Rico, and most of the district's restaurants and cafés are catered to the student population. The University of Puerto Rico campus offers various attractions.Those with a passion for shopping will want to head straight for Rìo Pedras. Shoppers will be delighted with the multitude of indoor and outdoor markets and bazaars. Pretty much everything and anything is for sale and the variety of items is astounding.Also located in Rìo Pedras are the Jardin Botanico and the Museo de Antropolgia, Hisotria Y Arte.
Related Attractions
Botanical Gardens
The Botanical Gardens located in Río Piedras feature 75ac/30.4ha of greenery and over 200 species of tropical and sub-tropical plants. Different hiking trails lead to an orchid garden, a lotus lagoon and plantation featuring more than 120 species of palm.One of the highlights of the Botanical Gardens is an orchid garden with over 30,000 flowers. The Botanical Gardens make for a pleasant escape from the noise, hustle, and bustle of San Juan. While visiting, one can't help but wonder what Puerto Rico used to be like before super highways, shopping malls, and rampant development. The Botanical Gardens can be difficult to find, look for an entrance near the south side of the intersections of highway #1 and highway 847.
Museum of Anthropology, History and Art
Visitors to the University of Puerto Rico grounds will be pleased to find the Museo de Antropologia, Historia y Arte (Museum of Anthropology, History and Art). It is located just inside the University of Puerto Rico campus near the Biblioteca Lazaro. The small Museo de Antropologia, Historia y Arte houses art shows and Indian artifacts recently discovered by University scholars. There are rotating displays that the museum hosts, be sure to call ahead to find out what is on display and to confirm the opening hours as they can vary.A visit to the Museum of Anthropology, History and Art can be combined with a tour of Rìo Piedras' markets, the Botanical Gardens and a general walk about the university grounds.
Río Piedras Market
The Río Piedras Market is an indoor / outdoor discount shopping zone that is as much a sight as is it a place to shop. The market is comprised of shops and inexpensive restaurants along four blocks of the Paseo de José de Diego, closed to auto traffic. Just about anything can be purchased at the Rìo Peidras market, however it is best known in San Juan for its fresh and large selection of exotic fruits.This market is a good place to shop for souvenirs and items truly Puerto Rican. You can pick up exotic spices, unique music, or a shirt all within a small area.
Map of San Juan Attractions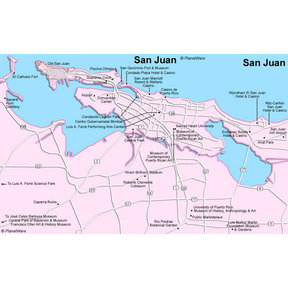 San Juan Map
More San Juan Attractions
Popular Destinations Nearby