San Francisco Museum of Modern Art (SFMOMA)
The San Francisco Museum of Modern Art (SFMOMA) is housed in the War Memorial Veterans Building on the west side of the Civic Center Plaza. It is a private institution, unlike the three other major art museums in San Francisco, the Asian Art Museum, the MH de Young Memorial Museum (both in Golden Gate Park) and the California Palace of the Legion of Honor.
San Francisco Museum of Modern Art (SFMOMA) Map
Important Information:
Opening hours:
May 30 to Sep 8:
10am-5:45pm; Thu: 10am-8:45pm; Closed: Wed
Sep 9 to May 30:
11am-5:45pm; Thu: 11am-8:45pm; Closed: Wed
Always closed on:
New Year's Day (Jan 1), Thanksgiving - USA (4th Thursday, Nov), Christmas - Christian (Dec 25)
Entrance fee in USD:
Adult $15.00, Senior over 62 $9.00, Students $9.00, Military discount FREE, Child 12 & under FREE
Useful tips:
Admission is half price 6 p.m. to 8:45 p.m. on Thursday evenings. Free First Tuesday of each month.
Disability Access:
Full facilities for persons with disabilities.
Guides:
Guided tour included with admission.
Facilities:
Gift shop, Restaurant or food service
Its origins go back to the 1890s, but it was set on a firm footing only in 1916, thanks to the efforts of the San Francisco Art Association. The San Francisco Museum of Modern Art was the only museum of its type on the West Coast until a museum of modern art was opened in Los Angeles in 1986.It is only recently that it has been obvious even from the outside that this is a museum devoted exclusively to the art of the 20th century. As part of a modernization program, works by the American sculptors Tony Smith and Peter Voulkos have been placed in front of the Art Deco façade, and in the entrance hall the statue of George Washington has been replaced by a geometric object made of steel by the California sculptor Bruce Nauman.
San Francisco Museum of Modern Art (SFMOMA) Highlights
Permanent Collections
Art from Europe and the USAThe museum's permanent collections now contain works by nearly every important modern European and American artist. But as far as European art is concerned, there is no real comparison with the Museum of Modern Art in New York either in terms of quantity or quality.Henri Matisse is particularly well represented, with nine paintings. George Braque's wonderful masterpiece "Le Guéridon" can also be seen. In 1980 the Josef Albers collection was greatly enhanced by the gift of seven more works. Among the German artists are Max Ernst, George Grosz, Hans Harting, Karl Hofer, Ernst Ludwig Kirchner, Franz Marc, Max Pechstein, Hans Purrmann, Kurt Schwitters and Fritz Winter. There are works by the Russian artists Alexej Jawlensky and Wassily Kandinsky. As for the French, the most notable are Pierre Bonnard, Paul Cézanne, Jean Dubuffet, Fernand Léger, Camille Pisarro and George Rouault. There are also works by the Spanish artists Joan Mirö and Pablo Picasso.SculptureThe museum possesses works by the sculptors Alexander Archipenko, Hans Arp, Marino Marini and Henry Moore.Avant-gardeAs well as the American artists mentioned above, the museum exhibits the work of many others who have caught the public eye in the last few decades; they include Stuart Davis, Jim Dine, Helen Frankenthaler, Arshile Gorky, Adolphe Gottlieb, Robert Indiana, Elsworth Kelly, William de Kooning, Kenneth Noland, Georgia O'Keeffe, Claes Oldenburg, Ad Reinhardt, Frank Stella and Mark Tobey.
Paul Klee Gallery
The Paul Klee Gallery at the San Francisco Museum of Modern Art has art from the Swiss painter who defies characterization. Klee who lived from 1879 till 1940 was an influential modern artist expelled from Germany by the Nazi's in 1933.
Contemporary Works Collection
The Contemporary Works Collection are located on the fourth and fifth floors of the San Francisco Museum of Modern Art.
Media Arts Collection
There is an impressive Media Arts Collection at the San Francisco Museum of Modern Art.
Photography Collection
The San Francisco Museum of Modern Art has a large collection of photographs, including original prints by Ansel Adams, a photographer who died in 1984.
Map of San Francisco Attractions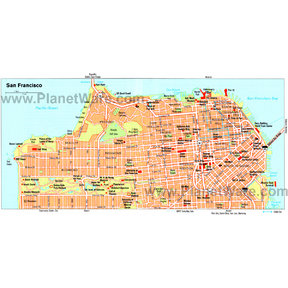 San Francisco Map
More San Francisco Attractions