North Beach, San Francisco
North Beach - a misleading name if ever there was one, there is definitely no beach here now - is one of the liveliest parts of San Francisco; its streets throng with immigrant peoples from all corners of the globe.San Francisco's nightclub and discoland is reached by continuing north along Grant Avenue, the main street running through Chinatown. North Beach starts beyond Columbus Avenue and Broadway.During the day this is a great place to people watch, enjoy a cup of coffee, have lunch, or stroll the streets. There are various eclectic shops and often some sort of spontaneous street side entertainment. The area has a very fun feel to it. Ice cream shops, cafes, and all kinds of restaurants line the streets. The area is busy day and night and is popular with families or individuals.North Beach can also be a convenient place to stay, being in the heart of everything. It lies between Chinatown and Fisherman's Wharf.
Related Attractions
Crooked Lombard Street
A short section of this street on Russian Hill has become one of the city's chief sights.Extending the length of just a single block it has been nicknamed "the crookedest street in the world", having a fall of 14% negotiated by ten zigzag bends. This "crooked" section is planted out with hydrangeas, giving it a delightful appearance.Few visitors with cars can resist this major attraction. Most people drive east up Lombard Street from the Pacific side to the junction with Hyde Street, then descend through the crooked section before continuing to Columbus Avenue. Steps in the sidewalk make the descent easy for those on foot.This is simply a residential section of the city with little else of interest than the street itself. The sides are lined with flowers and hedges and of course, the speed limit is slow!
Washington Square
Washington Square is the center of the Italian quarter. More than 50,000 Italians live here, and a glance at the shops and restaurants is enough to persuade any visitor that the Italian way of life is still practiced in this area. In the sixties and seventies it was where the Hippies ("Flower Children") met; this psychedelic movement started here and in other squares in this quarter of the city. The Church of St Peter and St Paul stands in the square.Entertainment quarterThe southeast part of this area, especially around Broadway and Columbus Avenue which crosses it, is San Francisco's main entertainment area, with countless night-clubs, jazz-clubs, bars, cabarets, theaters, restaurants and cafés.
Saints Peter and Paul Church
Saints Peter and Paul Church in San Francisco was completed in 1924 in North Beach. Known as the Italian Cathedral, this impressive building was used by Cecil B. De Mille in the film "The Ten Commandments".
North Beach Museum
The North Beach Museum in San Francisco contains a photographic record and artifacts from the area including a 1930 photo of three New York Yankees from San Francisco including Joe DiMaggio.
San Francisco Art Institute
The San Francisco Art Institute was founded in 1871 and is a premier school of contemporary art. Housed in a Spanish Colonial building built in 1926, the galleries display art by students as well as offering workshops and lectures.
Map of San Francisco Attractions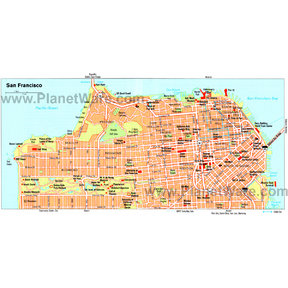 San Francisco Map
More San Francisco Attractions