Japanese Tea Garden, San Francisco
An attraction of the Golden Gate Park and one of the real sights of the city is the Japanese Tea Garden. Like the M H de Young Memorial Museum it dates back to the 1894 California International Exposition. At the time it was the setting for a Japanese village of which it was a part. Now it forms a delightful adjunct to the Asian Art Museum adjacent to it.
Important Information:
Address:
1 Maritime Plaza, San Francisco, CA 94111-3404, United States
Opening hours:
Mar 1 to Oct 31:
8:30am-6pm
Nov 1 to Feb 28:
8:30am-5pm
The layout of the garden was entrusted to a Japanese, Makoto Hagiwara, who looked after it for the next three decades, living on the site. His work was then carried on by his daughter, son-in-law and grandson.During the Second World War the Hagiwaras, like many other Japanese, were interned; the Japanese Tea Garden became the Oriental Tea Garden and several of its houses were demolished. One was converted into a souvenir shop. It was not until 1952 that the garden had its original name restored.The following year a lantern of peace was hung up and the Zen Garden was laid out, gifts from the children of Japan to the American people. Since then its Japanese-Buddhist character has been ever more strongly emphasized. The gaily colored pagoda and the moon bridge are special attractions.The garden is a very peaceful place with ponds and bridges, monuments, waterfalls, and of course traditional trees and plants. There is a tea house where you can sit and look out over the gardens. In the spring the cherry blossoms and blooming shrubs are a beautiful sight. Autumn also brings a splash of color to the garden. It does not take long to wander through the garden and it can make a nice addition to a visit to Golden Gate Park. There is an admission charge to enter the tea garden.
More Japanese Tea Garden Pictures
Map of San Francisco Attractions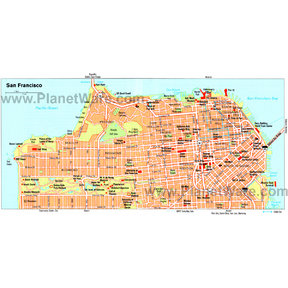 San Francisco Map
More San Francisco Attractions