Golden Gate Park, San Francisco
Golden Gate Park is 3mi/5km long, 0.5mi/800m wide and occupies 1,017 acres/4.1sq.km. It is San Francisco's "lungs", the city itself having only one or two small parks. Before development began in 1871 this was an area of arid dunes, and it was only with the greatest difficulty that what was then the largest man-made park in the world was brought to its present appearance.
Important Information:
Address:
Fort Mason Building 201, San Francisco, CA 94123, United States
Transit:
Buses: 5, 7, 21, 71, 72.
The credit for this lies chiefly with one man, John McLaren, Park Commissioner for 56 years from 1887 to 1943.Nowadays visitors to the park enjoy a grand network of footpaths and cycle tracks, more than 5,000 different kinds of plants and dozens of species of trees, several lakes, bridle-paths, a buffalo paddock, three museums, a Japanese tea garden, greenhouses, a botanical garden and considerably more besides.Strolling through Golden Gate Park is a delight, but very time consuming. Bear in mind also that after 3 p.m. when the mist tends to come rolling in from the Pacific, the park can suddenly seem a less welcoming place.Golden Gate Park is one of those places that can just as easily take up a couple of hours as a couple of days. People come here regularly to walk or bike and bike rentals are available. This can be a good way to explore the park, rather than trying to do everything on foot.
Related Attractions
The California Academy of Sciences is most noteworthy for its "green" design, complete with a Living roof of plants and solar panels.
The famous De Young Museum, built originally for the International California Exposition of 1894, holds a fine collection of American and international art.
The Japanese Tea Garden in Golden Gate Park was built for the 1894 California International Exposition as part of a larger display. Water features, bridges, and traditional plants create a peaceful environment.
Conservatory of Flowers
Northeast of the Academy of Sciences in San Francisco's Golden Gate Park is the Conservatory of Flowers, a large hot-house containing palms, chiefly from South America and the islands of the South Pacific. This is the oldest building in the park and one of the best examples of Victorian architecture. It was brought by freighter from England to San Francisco and re-erected here in 1879. It is now a protected building.In the conservatory may be seen, as well as a tropical garden, orchids, ferns and other plants, and displays of various varieties of flowers - arum lilies, begonias, chrysanthemums and many others - according to the season.
Buffalo Paddock
One of San Francisco's less expected sights is the herd of American Bison wandering around Golden Gate Park. To be honest they are actually in the Buffalo Paddock rather than roaming freely, however, they do make for an interesting attraction.The buffalo have been here since the late 1800s, when these animals were near the point of extinction in the wild. Today the herd is administered by the San Francisco Zoo. Grazing in the field they add to the feeling that you are somewhere in the country side rather than the middle of a large city.
Koret Children's Quarter
The Koret Children's Quarter, previously known as Children's Playground, which opened in 1887 is considered to be the first children's playground in the US. At that time, setting aside space specifically for children to play in was groundbreaking! The park and play equipment underwent a major renovation.A carousel has been in place in the park since 1888, the current carousel was built in 1912 by the Herschell-Spillman Company.
Strybing Arboretum (Botanic Garden)
Opposite the Japanese Tea Garden, on the other side of Martin Luther King Jr. Drive, lies the 26 acre/10ha Strybing Arboretum, named after Helen Strybing who endowed it.The Arboretum contains more than 5,000 clearly labeled species of plant grouped according to their region of origin. There are also ducks and swans to be seen which visitors may feed. Peacocks with their decorative tails add color to the lawns and graveled paths.
Queen Wilhelmina Tulip Garden
The Queen Wilhelmina Tulip Garden has a windmill which was built in 1903 and a wonderful collection of flowers. It is located at the western end of Golden Gate Park in San Francisco.
Shakespeare Garden
The Shakespeare Garden in San Francisco's Golden Gate Park is located southwest of the California Academy of Sciences. The brick walkway and dual rows of flowers greet visitors as they meander through plants from the bard's works.
Stow Lake
Stow Lake in Golden Gate Park was built in 1895. Visitors can tour this donut shaped body of water in a paddle or rowboat and get an inside view of Golden Gate Park!
More Golden Gate Park Pictures
Map of San Francisco Attractions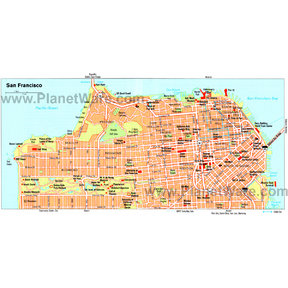 San Francisco Map
More San Francisco Attractions