Fort Mason Center, San Francisco
The Fort Mason Center is located between the Golden Gate and the Bay Bridges on the northern waterfront of San Francisco. It was an embarcation point during World War II.
Address:
Landmark Building A, Fort Mason Center, San Francisco, CA 94123-1382, United States
Transit:
Bus: 22, 28, 30, 42, 43.
Related Attractions
Mexican Museum
The Mexican Museum in San Francisco is the only museum in the United States devoted entirely to Mexican art and folk culture from the pre-Columbian period to the present day. It is particularly rich in ceramics. Other interesting exhibits include paintings by chicanos, the Mexican farm-hands who come to the United States to help with the harvest.On the second Saturday of every month the museum arranges a guided tour, departing 10 am, of the many fascinating murals to be seen in Mission District. Many of the murals show the strong influence of Mexican artists such as Rivera and Orozco.
San Francisco African-American Historical and Cultural Society
The only museum devoted to the culture and history of the African-Americans west of the Mississippi is to be found in San Francisco (Marina Boulevard, Fort Mason, Building C.Permanent exhibits include documents and pictures relative to their history in California and the part played by them in the American Civil War of 1861-65.Temporary exhibitions of works by artists, especially those working in and around San Francisco, are regularly mounted.
Museum of Craft and Folk Art Craft (formerly San Francisco Craft and Folk Art Museum)
Museum of Craft and Folk Art Craft was formerly located at the Fort Mason Center. It is now located in the museum district on Yerba Buena Lane. Displays of Contemporary Craft, American Folk Art and Traditional Ethnic Art are the highlights with glass, ceramics, textiles, wood and metal the main types of material.
Fort Mason Foundation
The Fort Mason Foundation has facilities for workshops, seminars, training programs, and special events. The focus is on the visual and performing arts, humanities, education, ecology, and recreation.
Gulf of the Farallones
Offshore from San Francisco is the Gulf of the Farallones region. It includes the Gulf of the Farallones Marine Sanctuary and includes coastal wetlands and deep ocean water.
Museo Italo Americano
The Museo Italo Americano in San Francisco is located in the Fort Mason Center. It features the works of Italian and Italian American artists. There is a library on site, and language classes are offered.
Map of San Francisco Attractions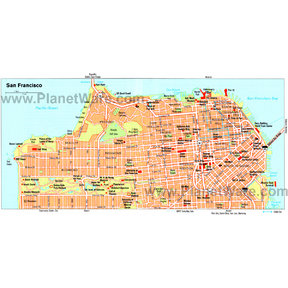 San Francisco Map
More San Francisco Attractions