Ferry Building / Marketplace, San Francisco
The Ferry Building, with its Neo-Romanesque façade and 230ft/70m-high tower modeled on the Giralda, the campanile of Seville Cathedral, is located at the lower end of Market Street, on the east side of Embarcadero Plaza. Erected by the state of California between 1896 and 1903, both the building and the tower survived the 1906 earthquake intact.
Ferry Building (Marketplace) Map
The Ferry Building was once the symbol of San Francisco but has since lost this distinction to more recent additions, notably the Transamerica Pyramid.Until the building of the San Francisco-Oakland and Golden Gate Bridges all roads used to converge on the Ferry Building. Every day 170 ferries owned by various ferry companies maintained a shuttle service across the Bay. Nowadays these have been reduced to just a few ferries serving Sausalito, Larkspur and Tiburon.The Ferry Building Marketplace is truly a place of food. Countless shops and restaurants offer all kinds of food from meat, fish, and produce to breads, cheeses, and all kinds of specialty items. The restaurants offer a diverse range of ethnic foods in all price ranges. There are also stores selling goods such as antiques and house wares.The market is always busy making it a great place to wander around, grab lunch, and people watch. It's also easy to get to. Located at the lower end of Market Street near the waterfront, the building is easily accessible by all forms of public transport, including ferries and trolley cars.
Related Attractions
California State Division of Mines Museum
The California State Division of Mines Museum in San Francisco, located in the Ferry Building contains a valuable collection of stones and minerals, as well as the World Trade Center with its exhibition of products from all parts of the globe.
Port Authority
The Ferry building in San Francisco now houses both the Port Authority and the California State Division of Mines Museum.
More Ferry Building (Marketplace) Pictures
Map of San Francisco Attractions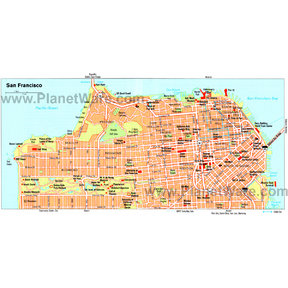 San Francisco Map
More San Francisco Attractions