Cable Car Museum, San Francisco
This red-brick building, erected in 1887, serves as the control center for the three cable car lines still in operation. From an observation gallery it is possible to see just how the cable cars work. The system remains essentially unchanged since its invention in 1873.The little museum shows three of the first vehicles which plied on Clay Street, equipment such as gripping and braking mechanisms, cables 1.5in./3.5cm in diameter, gas lanterns and warning-bells, photographs and models of all the types of cable car ever put into service.
Important Information:
Address:
1201 Mason Street, San Francisco, CA 94108-1010, United States
Opening hours:
Apr 1 to Sep 30:
10am-6pm
Oct 1 to Mar 31:
10am-5pm
Always closed on:
New Year's Day (Jan 1), Thanksgiving - USA (4th Thursday, Nov), Christmas - Christian (Dec 25), Easter - Christian
Useful tips:
Day passes are available for the cable cars, offering worthwhile saving.
Disability Access:
Partial facilities for persons with disabilities.
Transit:
Bus: 1; Cable Cars: Powell-Mason, Powell-Hyde
There is continuous screening of a film lasting a quarter of an hour about the cable cars and how they operate.History and method of operationInventor and manufacturer of the cable cars was Andrew Hallidie, an engineer born in London. He conceived the idea of replacing the horse trams, which found the steep streets of San Francisco difficult to negotiate safely, with a more modern transport system. Without any power of its San Francisco own, the cable car is suspended with the aid of a "grip" on an endless cable housed in a trench under the street and is thus pulled up the steep slope (gradient up to 21%). When the cable cars stop or the lines cross over, the "gripman" releases the cable, clamping it on again when the car moves off. Four powerful braking systems ensure safety when going downhill (the speed of the cars, which always have right of way, is a steady 9.5mph/ 15kmph). At the termini the "gripman" and "conductor" together - often with the help of the passengers - turn the car round on a turntable.The first stretch was opened in 1873. By 1880 there were eight lines in operation covering a total network of 110mi/180km. Today only 11mi/17km remain. Since 1964 the system has been declared an historic monument.
Cable Car Museum Pictures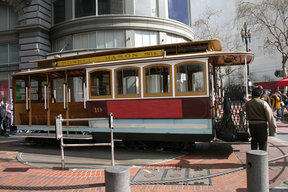 Map of San Francisco Attractions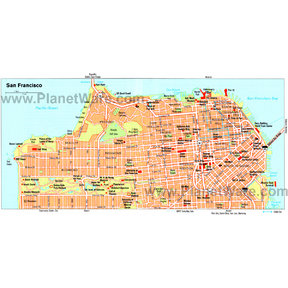 San Francisco Map
More San Francisco Attractions