Bank of California, San Francisco
The Bank of California is the oldest bank on the West coast. Its buildings in San Francisco have always been noted for their architectural merit.The first, erected in 1867 on the site occupied today by the Bank's latest shrine to Mammon, was Neo-Renaissance in style and was pulled down just before the earthquake of 1906. The second, which still stands on the corner of Sansome Street, took the form of a Corinthian temple, with pillars of California granite on two sides.
Important Information:
Address:
400 California Street, San Francisco, CA 94104-1302, United States
Rising alongside it, at 420 California Street, is the bank's most recent head office. Constructed in 1967, great importance was attached to preserving and harmonizing with the earlier gray granite building. The "Museum of Money of the American West" is housed on the lower floor. Visitors never fail to be impressed by the dimensions of the bank's magnificent entrance hall.Marble from Tennessee was used. At one end there are statues of two mountain lions by the Californian sculptor Arthur Putnam.
Related Attractions
Museum of Money of the American West
Although not very large, the Museum of Money of the American West is an important source of information on the history of the American West. Among the items on display are pieces of gold quartz from the time of the Gold Rush and nuggets of gold and silver, also a collection of gold coins and banknotes dating from the second half of the 19th century. Some of these were official issue, others produced by the banks themselves to cope with a shortage of coin during the period.The museum's absorbing collection also includes weapons of historical interest, several of which were used by the participants in some notorious duels.
Map of San Francisco Attractions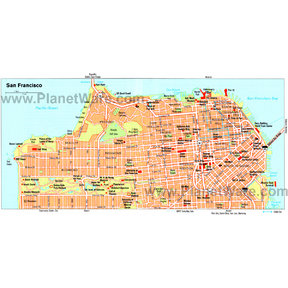 San Francisco Map
More San Francisco Attractions