Asian Art Museum of San Francisco (Brundage Collection)
The Asian Art Museum is unquestionably one of the most important museums in San Francisco, with something to offer every visitor, not just specialists in Asiatic art.The museum opened in 1966, with the basis of the collection coming from art collector, Avery Brundage.Brundage, a wealthy businessman perhaps best known as a long serving President of the International Olympic Committee, began to take an interest in oriental art in 1936.
Asian Art Museum of San Francisco (Brundage Collection) Map
Important Information:
Address:
200 Larkin Street, San Francisco, CA 94102, United States
Opening hours:
10am-5pm; Thu: 10am-9pm; Closed: Mon
Always closed on:
New Year's Day (Jan 1), Thanksgiving - USA (4th Thursday, Nov), Christmas - Christian (Dec 25)
Entrance fee in USD:
Adult $12.00, Senior over 65 $8.00, Child 17 & under $7.00, Child 12 & under FREE
Useful tips:
Admission is $5 on Thursday evenings after 5 pm.
Disability Access:
Full facilities for persons with disabilities.
Guides:
Audio-visual presentations available.
Facilities:
Gift shop, Restaurant or food service
He built up a private collection which, in 1959, he offered to the city of San Francisco "to bridge the gap between East and West". It was decided to build a special museum, which was not completed until 1966. From the outside the building is somewhat undistinguished.During the intervening seven years Brundage had continued to build up his collection; he presented these new acquisitions to San Francisco as well. Then, on his death in 1975 at the age of 88, the museum also received the rest of his collection of works of art in the form of a legacy. Building on this, the museum has continued to amass various pieces and now contains an extensive collection sculptures, paintings, bronzes, ceramics, jade carvings, and architectural fragments from Japan, Korea, China, India, Iran and other Asiatic cultures. The works cover a span of more than 6,000 years.A large portion of the collection consists of items of Chinese origin. The collection is divided into regions that include, South Asia; the Persian World and West Asia; Southeast Asia; the Himalayas and the Tibetan Buddhist World; China; Korea; and Japan. Displays are rotated regularly.
Related Attractions
Chinese Department
The Asian Art Museum of San Francisco now possesses more than 150 Chinese rolls and bark paintings, though only a few are at present on show.While the examples of Chinese lacquer work and ebony carving are exceptional, Brundage collected relatively few Chinese paintings. This left some gaps to be filled, which a generous acquisitions fund has fortunately made possible.
Other Departments
Although relatively small, the Japanese Department of the Asian Art Museum of San Francisco contains fine pieces from almost every period.Brundage became interested in collecting the art of India, Indonesia and Indochina only in his later years, as a consequence of which these departments are inferior in both quantity and quality to the collections of Chinese art.
Jade Room
The Asian Art Museum of San Francisco's chief attraction is the Jade Room. With about 1,200 jade works of art it is the largest collection in any Western country. Virtually all Chinese periods are represented from the fifth century BC onward, though the emphasis is mainly on the Ming and Ch'ing periods (c. AD 1400-1900).
Library
The library at the Asian Art Museum of San Francisco, with 12,000 volumes on the art of the Near and Far East, is open to visitors as well as specialists. Students and museum staff from the USA, Japan, Taiwan and Korea come here for specialist training in Asiatic art.
Map of San Francisco Attractions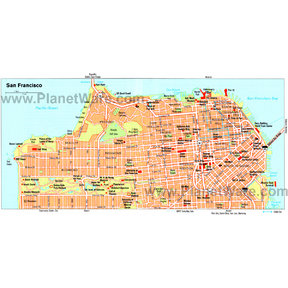 San Francisco Map
More San Francisco Attractions