San Diego Maritime Museum and Star of India
The San Diego Maritime Museum, established in 1948, consists of three ships which have been restored to their original condition and are lying alongside Harbor Drive, between Ash and Laurel Streets.Star of IndiaThe three-master "Star of India" is a sailing ship which was built in the Isle of Man in 1863 and sailed round the world several times.
San Diego Maritime Museum and Star of India Map
Important Information:
Address:
1492 North Harbour Drive, San Diego, CA 92101-3309, United States
Entrance fee in USD:
Adult $12.00, Child 6 & under $9.00, Senior $9.00, Child 17 & under $8.00, Child 12 & under FREE
Useful tips:
Docent tours are available for groups of ten or more by appointment.
It plied between England and New Zealand as a passenger and cargo ship, and often had on board as many as 400 British passengers who were emigrating to New Zealand. From 1901 to 1923 it was in service for America on the Alaska route before coming to San Diego. The ship, which is still seaworthy, last went to sea on the occasion of the celebrations to mark the bi-centenary of American Independence on July 4th 1976.The others are the ferry-ship "Berkeley", built in 1898 and which plied between San Francisco and Oakland, and the luxurious 1904 motor-yacht "Medea", which still occasionally makes trips round the bay.Visitors are encouraged to explore the ships inside and out. In addition to the ships and submarines, the museum features temporary exhibits on various topics. The museum also has an extensive naval library and archives available to the general public.
Related Attractions
Tallship Californian
The Californian is a replica of the 1847 Revenue Cutter C.W. Lawrence, built from the ground up in 1984 and launched at the 1984 Summer Olympic Games in Los Angeles. The Californian has nine sails, weighs 130 tons and is armed with four six-pound deck guns. The Maritime Museum of San Diego acquired the tallship in June 2002.
Map of San Diego Attractions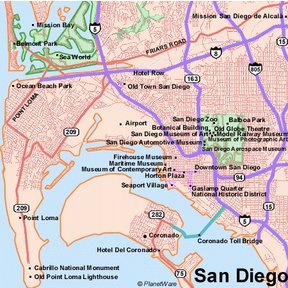 San Diego Map
More San Diego Attractions
Popular Destinations Nearby