Mission Bay, San Diego
The Mission Bay section of San Diego lies northwest of Downtown and south of La Jolla. With its many small coves Mission Bay, covering some 4,500 acres/1,800 hectares, is a convenient and beautiful holiday resort for the citizens of San Diego. Every conceivable kind of water sport is practiced here and thanks to the constantly warm climate can be enjoyed practically all year round. The beaches are almost 27mi/43km long; there is also a yacht club, a marina from which you can take steamer trips round the bay, half a dozen luxury hotels for permanent guests, as well as several golf-courses, one of which is even floodlit at night.If you drive west along the U.S. 5 as far as the exit to East Mission Bay Drive you will find an information counter where you can get all the details you require.
Important Information:
Address:
401 B Street, Suite 1400, San Diego, CA 92101-4237, United States
Related Attractions
San Diego SeaWorld is one of the most popular family oriented tourist attractions in the city. The park features daily shows with trained dolphins and whales, along with rides and other amusements.
Hilton San Diego Resort
Hilton San Diego Resort overlooks Mission Bay. The resort has its own private marina and aquatic center with Hobie cats, wave runners, sailboats, wind surfboards, water-ski boats, bike, rollerblade rentals and scuba diving rentals.
San Diego Convair Waterski Club
The San Diego Convair Waterski Club is a water-skiing service that offers year-round skiing on Mission Bay and the Colorado River. Weekend camping trips to the Colorado River are offered during the season.
Cabrillo Isle Marina
This 450 berth marina is located on Harbor Island, just minutes from downtown San Diego. The marina has boat repair, boat chartering, and diving services available.
Map of San Diego Attractions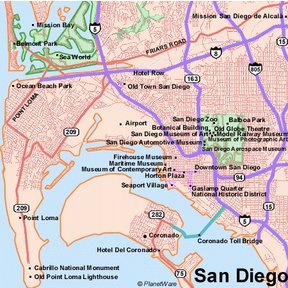 San Diego Map
More San Diego Attractions
Popular Destinations Nearby