The Alamo, San Antonio
On the east side of the city, on Alamo Plaza, is the most-famous building in the whole of Texas, the Alamo (from the Spanish word for "cottonwood"), part of the mission station established in 1718. The Alamo church was built by Franciscans in 1744 and made into a fort in 1836. In that year, during the Texan war of independence, a small Texan force entrenched themselves in the Alamo against a Mexican army of 3000 men, and all the 187 defenders (among them Davy Crockett and James Bowie) were killed. Thereafter the Alamo became the "cradle of Texan independence", and "Remember the Alamo!" became the Texan battle-cry. The former mission is now a National Monument, visited annually by 2.5 million people. The mission buildings (restored) now house a museum of Texan history. In front of the Alamo is a cenotaph (by Pompeo Coppini) commemorating the fallen Texans.
Important Information:
Address:
Box 2599, San Antonio, TX 78299, United States
Opening hours:
Jun 1 to Aug 31:
9am-5:30pm; Sun: 10am-5:30pm; Fri: 9am-7pm; Sat: 9am-7pm
Sep 1 to May 31:
9am-5:30pm; Sun: 10am-5:30pm
Always closed on:
Christmas Eve - Christian (Dec 24), Christmas - Christian (Dec 25)
Related Attractions
Menger Hotel
The historic Menger Hotel (1859) is where the Chisholm Trail cowboys used to wet their parched throats and Teddy Roosevelt recruited his "Rough Riders".Today it is an elegant hotel which has been able to tastefully maintain the historical atmosphere.
More The Alamo Pictures
Map of San Antonio Attractions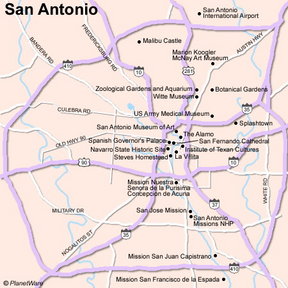 San Antonio Map
More San Antonio Attractions
Popular Destinations Nearby