Hohensalzburg Fortress, Salzburg
Festung
Salzburg's whole urban scene is dominated by the picturesque fortress of Hohensalzburg, situated to the south of the old town on the southeastern summit of the Mönchsberg (542m/1,778ft), 120m/400ft above the Salzach. It can be reached on foot (20 minutes) either from Kapitelplatz by way of Festungsgasse or from the Mönchsberg via the Schartentor, or by funicular from Festungsgasse (about one-and-a-half minutes). The castle, first built in 1077 in the reign of Archbishop Gebhard, dates in its present form mainly from about 1500, during the reign of Archbishop Leonhard von Keutschach, whose heraldic device, a turnip, is everywhere to be seen.
Hohensalzburg Fortress Map
Important Information:
Address:
Mönchsberg 34, A-5020 Salzburg, Austria
Opening hours:
May 1 to May 31:
9am-7pm
Jun 1 to Aug 31:
9am-7:30pm
Sep 1 to Sep 30:
9am-7pm
Oct 1 to Apr 30:
9am-5:30pm
Entrance fee in EUR:
Family €22.00, Adult €9.60, Group discounts €8.70, Child 15 & under €5.50
Guides:
Guided tour available as optional extra.
The castle was strongly fortified in the 17th C., but was abandoned in 1861. From the Festungsgasse the approach to the fortress passes through a number of arched defensive gateways under the Feuerbastei (Fire Bastion, 1681; marble coat of arms of its builder, Archbishop Count Kuenburg) to the "Reisszug", a hoist (1504) for bringing up supplies, formerly worked by horses, and then through the Rosspforte (Horse Gate) into the Haupthof (outer ward), with an ancient lime tree and a cistern of 1539. On the northern side of the courtyard is the little Georgskirche (church of St George, 1501-02), on the outer wall of which is a fine red marble relief of Archbishop Leonhard (by Hans Volkenauer, 1515). The conducted tour which begins at the Gerichtsturm or Reckturm takes in, among other features, the "Salzburg Bull" (Salzburger Stier), an organ of 1502 which is played daily after the carillon in the Neugebäude, and, on the third floor, the Princes' Apartments (Late Gothic; painted wainscoting). In the Golden Room ("Goldene Stube") note the marble doorways, the doors covered in tendrils formed from wrought iron, and a beautiful tiled stove of 1501. In the Great or Golden Hall (with gold bosses on the blue coffered ceiling) there are four columns with shafts of red Adnet marble.
Hohensalzburg Fortress Highlights
Rainer Museum
The Rainer Museum, adjoining the Princes' Apartments in the Hohensalzburg fortress, (open May-early October) contains mementos of the old Salzburg household regiment, known as Archduke Rainer's 59th Infantry Regiment, which was quartered in the fortress from 1871-1918.
Fortress Museum
On the Hoher Stock (upper floor) of the Hohensalzburg fortress and the floor below is the Fortress Museum (open all the year round), displaying interesting documents on the history of the Hohensalzburg (weapons, coats of arms, instruments of torture and items connected with trade guilds, etc.).
More Hohensalzburg Fortress Pictures
Map - Hohensalzburg Fortress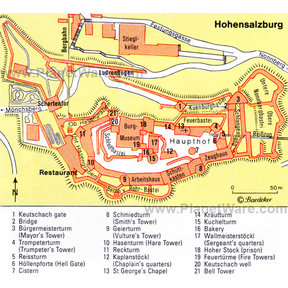 Map - Hohensalzburg
Map of Salzburg Attractions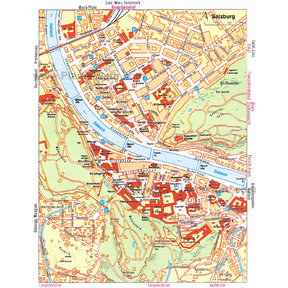 Salzburg Map
More Salzburg Attractions