Seafront Promenade & Aristotle Square, Salonica
A convenient and easily identifiable starting-point for a sightseeing tour of Salonica is the seafront promenade on the southwest side of the town.The seafront promenade (Leofóros Níkis, Avenue of Victory), laid out on the line of the old walls which were pulled down in 1866, extends from the Central Harbor (Kentrikí Limáni) to the White Tower. In spite of the busy traffic the pedestrian strip along the water's edge is still a favorite promenade for both local people and visitors, not least because of the beautiful view over the gulf, extending in clear weather as far as Mount Olympus.
Seafront Promenade & Aristotle Square Map
Related Attractions
White Tower
In a small public garden at the southeast end of the seafront promenade - the southern tip of the city center - is the best-known landmark in Salonica, the White Tower (Lefkós Pyrgos). This was a major element in the system of walls and fortifications which originally surrounded the whole town, and is the only relic of the seaward defenses which were demolished from 1869 onwards.The present round tower was built by the Turks about 1430 on the site of an earlier defensive tower, and was used mainly as a prison. After a rebellion by the janissaries against Sultan Mahmud II in 1826 they were imprisoned and killed in the tower, which then became known as the Bloody Tower. Thereupon the Turkish authorities whitewashed the tower and renamed it Beyaz Kule, the White Tower.

White Tower Museum
In Salonica, the massive 35m/115ft high White Tower (from the top of which there are fine views of the city and the harbor) now houses a museum on the history and art of Byzantine Salonica from around A.D. 300 to its capture by the Turks in 1430 (Early Christian coins from the town mint, gravestones and grave goods, vases, mosaics, fragments of wall paintings, capitals, liturgical objects, etc.).
Aristotle Square
Half way between the long building of the Custom House, on the harbor, and the White Tower, extending north into the town of Salonica, is the rectangular Platía Aristotélous (Aristotle Square). The many cafe and restaurants in the arcades around the square make this a popular rendezvous, particularly in the evening, but the traffic-free area in the center of the square is also a good place for rest and relaxation durting the day.
Seafront Promenade & Aristotle Square Pictures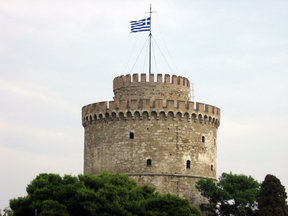 Map of Salonica Attractions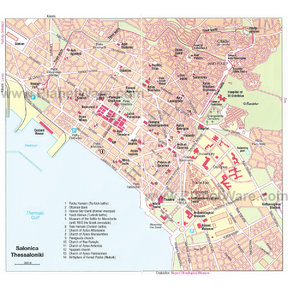 Salonica Map
More Salonica Attractions
Popular Destinations Nearby