Old Town Center, Salisbury
To the north of Salisbury cathedral we pass through the North Gate, along Crane Bridge Road, and reach the meadows of the River Avon, where there is a fine view of the cathedral, which John Constable captured on canvas in his painting of 1820. Returning to the town center, we pass the parish church of St Thomas of Canterbury (15th century) and arrive at the wide market place, which with its 15th century market cross was the focal point of the old cloth-trading town. Further on to the west is the Guildhall (1788-95), and diagonally opposite to it the Plume of Feathers Inn (15th/17th century). A little further on in Milford Street we come to the Red Lion Hotel with its fine facade of 1820 and its pretty inner courtyard. Further on, in Gigant Street, is Joiner's Hall, an attractive half-timbered building dating from the 16th century.
Related Attractions
Old Sarum
Old Sarum was the precursor of present-day Salisbury. The ruins of the town lie 2mi/3km to the north of the town center on a hill which even in prehistoric times was fortified. The Romans built the camp of Sorviodonum on this site, while under the Saxons a town settlement grew up here. William the Conqueror chose this strategically favorable spot to build a castle and in 1075 moved the episcopal see here from Sherborne. The castle and the cathedral, which was consecrated in 1092, were intended to make Norman claims to overlordship indisputable. It was probably as a result of disputes between clergy and military, coupled with a shortage of water, that the church authorities decided to have a cathedral built on a new site. In 1220 the inhabitants of Old Sarum moved to New Salisbury, where a new town with a cathedral was laid out, following a definite plan, but using building materials from Old Sarum, so that today at Old Sarum only a few remains of the castle within the inner circumference wall can be seen, and the ruined cathedral within the outer wall.
Map of Salisbury Attractions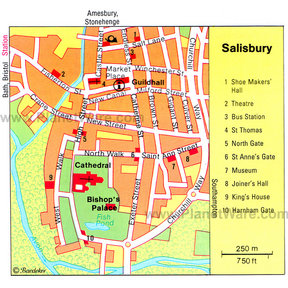 Salisbury Map
More Salisbury Attractions
Popular Destinations Nearby