Basilica of Saint-Hubert, Saint-Hubert
Basilique
In the Grand-Place, the center of the town which is situated on a slope, stands the Basilica of Saint-Hubert with its 60m/197ft high towers. It has its origins in a Benedictine abbey church founded in the seventh C. which was destroyed by fire on several occasions. The present basilica was rebuilt between 1526 and 1564 and is a good example of Late-Gothic church architecture.However the facade, renewed in the 18th C., is in a mixture of Renaissance and Baroque work and shows the legend of St Hubert.
Basilica of Saint-Hubert Map
Important Information:
Opening hours:
Apr 8 to Nov 3:
9:30am-5pm
Nov 4 to Apr 7:
9:30am-5pm; Closed: Mon, Tue, Wed, Thu, Fri
Always opened on:
Winter solstice - First day of winter (Dec 21), Christmas Eve - Christian (Dec 24), Day after Christmas, St Stephen's Day, Boxing Day (Dec 26), Christmas - Christian (Dec 25)
Guides:
Guided tour included with admission.
Basilica of Saint-Hubert Highlight
Basilique Saint Hubert Interior
The almost 25m/82ft-high light interior of the basilica is magnificently adorned with works of art principally of the 17th and 18th century. On either side of the entrance to the choir stand fine altars of Humain (Rochefort) marble. The choir stalls have scenes from the life of St Benedict and St Hubert (1733). The statue of Mary on the high altar is probably by the sculptor Delcour from Liège. In the choir ambulatory in the Chapelle Saint-Laurent are 24 enameled paintings in the style of Dürer by M. Didier (ca. 1560). In the crypt underneath the choir a few remnants of the 11th century building can still be seen. Notable in the right aisle are the lavish altars of St Hubert and St Lambert; the left aisle houses the mausoleum of St Hubert whose remains, however, disappeared after the French Revolution. Nearby is the church treasury which includes the saint's stole and his hunting horn, as well as relics of the maidens Hostia, Grata and Areapalis.
Map - Basilica of Saint-Hubert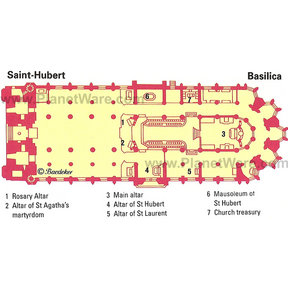 Map - Saint-Hubert Basilique
Popular Destinations Nearby