Old Sacramento and Old Sacramento State Historic Park
Although there was a settlement in the area of Sacramento before the gold-rush, it was really the gold rush that created the city. Old Sacramento runs along the Sacramento River, an area that was seen as a great commercial center for the new city in the mid 19th Century. However, floods proved to be a serious problem and the city was raised by adding earth to this low lying area.
Old Sacramento and Old Sacramento State Historic Park Map
Important Information:
Address:
1102 Second Street, Sacramento, CA 95814-3203, United States
Useful tips:
At weekends, at 11.30 a.m. and 1.30 p.m., guided walks through the old town are organized starting from the Central Pacific Passenger Depot.
Eventually the focus of the city center shifted and this area become an impoverished, red light district. In the 1960s the area underwent redevelopment which led to the creation of what can be seen here today. Historic buildings, are now occupied by shops, restaurants, hotels, and museums. This a commercial area with a designation as a National Historic Landmark. The Old Sacramento State Historic Park includes numerous historical buildings in the area.About 26 acres/10.5 hectares of Sacramento's old town, between I and M Street and also 2nd and Front Street, have been restored in the style of the years 1849-70, including the cobbled streets (buggy rides available).
Related Attractions
Old Harbor District
Sacramento is carrying out a project to restore the old harbor district to what it looked like in days gone by. A start has been made on the east bank of Sacramento River, between I Street Bridge and Tower Bridge.Since 1989 "Delta King", the ship which used to ply between Sacramento and San Francisco from 1920 to 1941, has been laid up; it could hold 1,000 passengers and 2,000 tonnes of freight. In the Second World War it served as a hospital ship, and has now been converted to a floating hotel, with 44 single cabins, 12 restaurants, function rooms for a total of 200 people, as well as a museum and theater.
Eagle Theater
In the old town of Sacramento stands the Eagle Theater, built in 1849.
Old Sacramento Schoolhouse
The Old Sacramento Schoolhouse is a reproduction of a school of 1880.
Map of Sacramento Attractions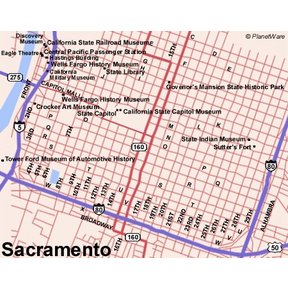 Sacramento Map
More Sacramento Attractions
Popular Destinations Nearby