Waimangu Valley
The Waimangu Valley was completely reshaped by the eruption of Mount Tarawera in 1886. Old photographs show the splendor of the sinter terraces described by Ferdinand von Hochstetter, which no longer exist. The Maori villages of Te Wairoa, Te Arihi and Moura disappeared under masses of lava and ash, and roads and bridges were destroyed.There are organized excursions to the volcanic features in the Waimangu Valley. The tour includes a walk along the shores of Lake Rotomahana, passing the Waimangu Geyser, now inactive, which in the past shot water up to a height of 400m. Other features are the Waimangu Cauldron, a 4ha lake of steaming hot water, the Cathedral Rocks and the Warbrick Terrace. Below Mount Tarawera (1111m), at present quiescent, is Lake Tarawera, on the shores of which (particularly round Tarawera Landing) there are Maori rock drawings. Finally a boat takes visitors across the lake to the buried village of Te Wairoa, now partly excavated. At least half a day must be allowed for the tour.
Related Attractions
Te Wairoa
This buried Maori village lies on the southwestern shore of Lake Tarawera. 14km southeast of Rotorua the road (signposted) runs past Tikitapu (the Blue Lake) and Rotokakahi (the Green Lake) and comes to Te Wairoa. Here a small exhibition of old photographs and objects found under the lava gives some impression of what the village was like before its destruction. Among the houses that have been excavated is the one occupied by the tohunga who predicted a great calamity. There are also remains of a mill and a tourist hotel, as well as an ancient stone Maori storehouse with archaic figures.
Buried Village
On June 10 1886, the serenity enjoyed by the inhabitants of Te Wairoa was shattered by a violent eruption. Over 5,000 square miles of scenic countryside was destroyed including the Te Wairoa village and the Pink and White Terraces.The museum highlights remnants and artifacts of the village, and the excavated sites can be toured.
Map of Rotorua Attractions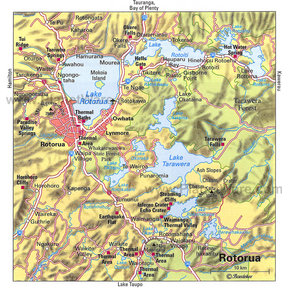 Rotorua Map
Popular Destinations Nearby