Trevi Fountain, Rome
Fontana di Trevi
Rome's largest fountain, the Fontana di Trevi, stands in a small square closely hemmed in by buildings. It is supplied by an aqueduct originally constructed by Agrippa, the great art patron of the first century B.C., to bring water to his baths, and later restored by the Popes. The fountain was created for Pope Clement XII between 1732 and 1751 by Nicolò Salvi, whose masterpiece it is. The fountain, 20m/65ft wide and 26m/85ft high, is built against the rear wall of the palace of the Dukes of Poli. It depicts the "kingdom of Ocean" - the sea god Oceanus (Neptune), with horses (one wild, the other quiet), tritons and shells. The water swirls round the figures and the artificial rocks and collects in a large basin. In the basin can be seen the coins thrown into it by visitors, in virtue of the old tradition that if you throw a coin into the Trevi Fountain you will one day return to Rome.
Important Information:
Transit:
Metro: Barberini (line A); Bus: 52, 53, 56, 58, 58b, 60, 61, 62, 71, 81, 85, 88, 90, 90b, 95, 115, 415.
More Trevi Fountain Pictures
Map of Rome Attractions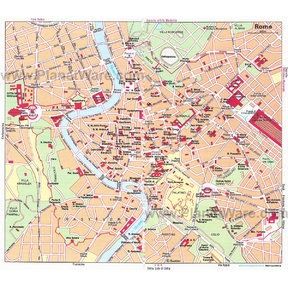 Rome Map