Tiber Island, Rome
Isola Tiberine
A Roman legend has it that the Tiber Island was formed when, at some time in the distant past, a heavy laden ship sank in mid stream; and indeed the island has something of the air of a huge vessel stranded in the Tiber. The obelisk which once stood on the island must in its day have looked like a mast. Another explanation, based on historical grounds, is that the island was formed by an accumulation of silt produced by waste from cargoes of corn after the expulsion of the Tarquins. About 200 B.C. there was a sanctuary of the healing god Aesculapius and his sacred snakes on the island where, according to another legend, the god's boat had once called in.
Important Information:
Transit:
Bus: 15, 23, 26, 44, 56, 60, 65, 75, 170, 710, 718, 719, 774.
Related Attractions
Ponte Fabrico
The existence of the Isola Tiberine made this a convenient place for bridging the Tiber. In 62 B.C. the consul L. Fabricius built the Ponte Fabrico, Rome's oldest surviving bridge, which links the island with the left bank of the river and the Capitol. It is popularly known as the Ponte dei Quattro Capi ("Bridge of the Four Heads") after two four-headed herms on the balustrades. On the island are the Fatebenefratelli Hospital - maintaining the tradition of healing associated with Aesculapius - and the church of San Bartolomeo, built at the end of the 10th century by the Emperor Otto III on the ruins of the temple of Aesculapius and restored in the Baroque period. Notable features of the church are the beautiful Romanesque campanile and a marble well-head at the entrance to the chancel (probably over the spring belonging to the ancient sanctuary) carved with figures of Christ, St Adalbert of Bohemia, an Apostle (probably Bartholomew) and Otto III.
Ponte Cestio
The Isola Tiberine is linked with the right bank of the Tiber (Trastevere) by the Ponte Cestio, built by Lucius Cestius in 46 B.C. and renewed on a number of occasions under the Empire.
Map of Rome Attractions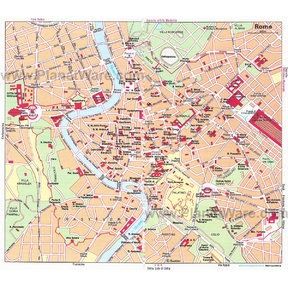 Rome Map