Theater of Marcellus, Rome
Teatro di Marcello
The Romans had seen in Greece how theaters with a semicircular auditorium could be built against the slope of a hill, thus avoiding the necessity of a costly building operation to provide support for the tiers of seating, and the same technique could well have been applied in Rome, which had plenty of hills. The desire to display Roman power, artistic achievement and technological skill, however, led Pompey to erect a free-standing theatre in 55 B.C. and Augustus followed his example in the theater built for his nephew and son-in-law Marcellus, predestined to be the Emperor's successor had he not died before his time.
Important Information:
Address:
Via del Teatro di Marcello, Genti e Paesi, Via Adda 111, I-00198 Rome, Italy
Opening hours:
10am-1pm; Closed: Mon, Wed, Thu, Fri
Useful tips:
Last guided tour of the day is at noon.
Guides:
Guided tour included with admission.
Transit:
Bus: 57, 94, 95, 160, 713, 716, 717, 774, 780.
The theater, originally planned by Caesar, was begun in 13 B.C. and completed two years later. The auditorium was now supported by a massive system of arcades, and the disposition of the stage and the tiers of seating was matched to the external elevation. The remains are still impressive, in spite of the fact that the theater was converted into a fortress and residence by the Fabi, Savelli and Orsini families during the Middle Ages. In the 16th century, a new palace was built by Baldassare Peruzzi for the Savelli family on the ruins of the theater, but this still preserved the form of the original structure. The restoration of the theater, begun in 1989, is expected to continue into the mid-1990s.
Related Attractions
Temple of Apollo Sosianus
On a high platform in front of the Theatre of Marcellus (on the right) are three corner columns from the Temple of Apollo Sosianus, originally built in 435-433 B.C., restored in 179 B.C. and rebuilt in 32 B.C. by the consul Sosianus. In ancient Rome the Theatre of Marcellus was adjoined on the south-east by the Foro Oblitorio (fruit and vegetable market), leading to the Forum Boarium (cattle market) on the site of the present Piazza Bocca della Verità.
Theater of Marcellus Pictures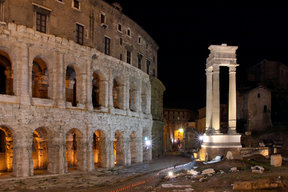 Map of Rome Attractions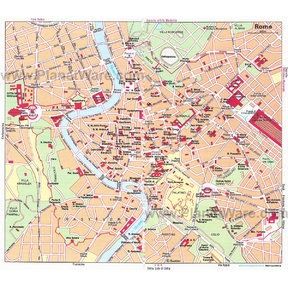 Rome Map