Santa Maria sopra Minerva, Rome
The Piazza della Minerva in Rome, behind the Pantheon, is graced by a charming monument - the marble elephant by Bernini which Ercole Ferrata (1667) used as the base supporting a small Egyptian obelisk (sixth century B.C.). The inscription on the plinth of the monument is to the effect that great strength is required to bear wisdom. The church, served by the Dominican order (the headquarters of which are to the left of the church), is built on the site of a temple of Minerva; hence its name.
Santa Maria sopra Minerva Map
Important Information:
Address:
Piazza della Minerva 42, I-00186 Rome, Italy
Transit:
Bus: 26, 87, 94.
It was begun, in Gothic style, about 1280 but was completed only in 1453 with the vaulting of the nave. It is thus the only Gothic complex of any size in Rome. Situated in the center of the city and served by St Dominic's preaching order, the church was popular with the people of Rome, and the number of grave-slabs in the floor and on the walls of this three-aisled basilica and in the side chapels with their numerous pictures bears witness to the part it played in the religious life of the city. The best known of the funerary chapels is the Caraffa Chapel at the end of the south transept, also known as the Chapel of the Annunciation of St Thomas, which contains the tomb of Cardinal Oliviero Caraffa (1347-80) and is famous for its frescoes by Filippo Lippi (1489). These glorify both the Virgin (Annunciation and Assumption) and St Thomas Aquinus, a member of the Dominican order (the triumph of the saint and scenes from his life). The high altar contains the relics of St Catherine of Siena (1347-80), author of numerous letters to the exiled Popes at Avignon urging them to return to Rome. In front of the altar, on the left, is a statue of the Risen Christ by Michelangelo (1521) which has been unjustly deprecated in comparison with his other works. It was criticised during Michelangelo's lifetime for looking more like a youthful pagan god than the founder of Christianity, and later a loincloth was added to cover its nakedness. Quiet contemplation is needed to appreciate the full expressiveness of the statue, but the masterly skill with which the marble is fashioned is evident at the first glance. Michelangelo's genius so impressed other artists that the painter Sebastiano del Piombo, for example, maintained that Christ's knees were worth more than all the buildings in Rome. In a passage to the left of the presbytery is the tomb of the painter Fra Angelico, a member of the Dominican order.
Map of Rome Attractions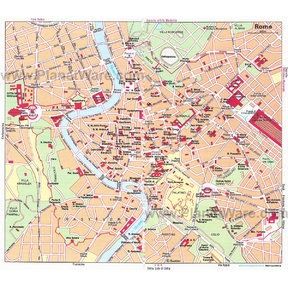 Rome Map