Piazza del Popolo & Santa Maria del Popolo, Rome
Before the demolition of the city walls visitors arriving in Rome from the north on the Via Cassia or Via Flaminia, two of the old Roman consular highways, received their first impression of the magnificence of the city when they passed through the Porta del Popolo into the Piazza del Popolo. On the east under the Pincio hill, and on the west above the Tiber, the square is enclosed by semicircular walls built by Giuseppe Valadier in 1809-20.
Piazza del Popolo & Santa Maria del Popolo Map
Important Information:
Transit:
Metro: Flaminio (line A); Bus: 2, 90, 90b, 115.
The square was enlarged in the 16th century during the reign of Pope Sixtus V, and the Via di Ripetta and Via del Babuino were laid out, radiating on either side of the Via del Corso. Some decades later the twin churches of Santa Maria dei Miracolo and Santa Maria in Monte Santo were built flanking the end of the Corso. In the center of the square is the Obelisk Flaminio, an Egyptian obelisk from the Circus Maximus, originally brought to Rome by Augustus. Beside the Porta del Popolo is the church of Santa Maria del Popolo. On the east side of the square the Cafe Rosati, traditionally the meeting place of artists, and the Canova opposite offer many of the famous Italian sweet delicacies.
Related Attractions
Santa Maria del Popolo
Beyond the pines of the Pincio Gardens stands the church of Santa Maria del Popolo, with its fine Renaissance facade, dome and campanile. Legend has it that there was once a chapel here, built to drive away the evil spirit of Nero, which Pope Sixtus IV (1471-84) enlarged into a church. This was extended by Bramante in 1505, occupied by Augustinian canons and later restored by Bernini. Martin Luther, an Augustinian, lived in the Augustinian house during his visit to Rome in 1510-11; after the Reformation the altar at which he had celebrated mass was shunned by other members of the order.As a parish church Santa Maria del Popolo, built on a Latin cross plan with three aisles and many side chapels, contains numerous tombs including those of Cardinal Ascanio Sforza (d. 1505) and Cardinal Girolamo Basso della Rovere (d. 1507), both by Andrea Sansovino, in the choir. On the vaulting of the choir are frescoes by Pinturecchio depicting the Coronation of the Virgin, with Evangelists, Sibyls and Fathers of the Church. The side chapels are particularly fine. The first on the right was built for the family of della Rovere, the second (by Carlo Fontana, 1682-87) for Cardinal Cybo, the second on the left (designed by Raffael, 1513-15) for the Chigi family. The Cesari Chapel, in the north transept, contains two famous pictures by Caravaggio, the "Conversion of St Paul" and the "Crucifixion of St Peter".
More Piazza del Popolo & Santa Maria del Popolo Pictures
Map of Rome Attractions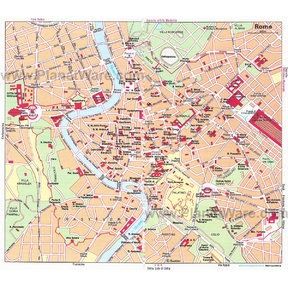 Rome Map